Pacific Coast Irises, Iris x pacifica
In spring, it is best to send these irises before they begin flowering. As of this week in March, they are starting to bloom in our greenhouses. So we are marking them "sold out" for the rest of spring/early summer.
We offer potted plants of these irises for spring planting.
This page contains hybrids of irises that are native to northern California and southern Oregon. They are best grown in soil that is acid, such as soil amended with a generous amount of humus or well-rotted compost. Filtered light or partial shade is best in most gardens, especially when grown in climates different from their native range. Mulching during winter is recommended where winter climates are more severe.
Best grown in gardens along the Pacific Coast.
Iris 'Bar Code'
$10.95 White falls with purple veins, that are darker at the edges of the falls, and a cluster of dark purple styles at the center of the flower.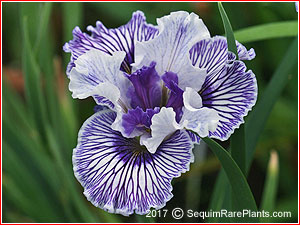 Iris 'Bay Street'
$10.95 Combining purple and cream in equal measure, with dark purple veins on creamy white falls. And it grows vigorously. This is one of Joseph Ghio's many lovely pacifica iris introductions, first offered in 2008.
Iris 'Blue a Fuse'
$10.95 Bluish-purple edging to white flowers.
Iris 'Bonus Points'
$10.95 A plicata of white with blue stitching, and dark purple styles in the center.
Iris 'Border Dispute'
$11.95 A plicata of gold, edged in reddish-brown.
Iris 'Chemeketa'
$11.95 A blend of tawny rose and gold. Chemeketa is originally a word from the aboriginal Kalapuya natives near Salem, Oregon, meaning "place of peace." Today there is a community college in Oregon with this name, in addition to a location in California named Chemeketa Park.
Iris 'Chualar'
$11.95 Wine-rose blending to apricot-gold, with lighter styles of pale lavender-pink.
Iris 'Costanoa'
$10.95 Flowers that are a creamy white, highlighted by lovely blue style arms, and blue signals at the base of the falls.
Iris 'Drip Drop'
$10.95 Three colors -- golden at the base, creamy white in the center and a wide splash of purple at the tips of the falls. With veins standing out in gold and purple.
Iris 'Filoli'
$10.95 Very colorful in rich purple and lighter lilac. It is named for a famous garden in California.
Iris 'Going Bananas'
$10.95 Creamy lemon yellow. The signals are a lighter thumbprint of cream on the falls.
Iris 'Idyllwild'
$10.95 Combines falls of medium lavender-blue with a very ruffly center buff of lighter standards. The lavender-blue falls are colored lighter at their edges, and have a creamy center line. 'Idyllwild's' season extends later than most.
Iris 'Mandalay Bay'
$10.95 Ruffled and crimped flowers of bright yellow with cream at the base.
Iris 'Marriage Proposal'
$12.95 Dusky rose blended with amber on the falls. The standards and styles are a lighter, creamy lavender-pink.
Iris 'Mixed Bag'
$9.95 The falls are lavender-rose. The flaring, upright standards are a contrasting cream, lightly touched in lavender.
Iris 'Ocean Blue'
$10.95 'Ocean Blue' is mostly a light lavender-blue, close to a sky-blue. Darker veins run through the falls, and each has a golden signal at its base.
Iris 'Sierra Azul'
$10.95 Creamy white flowers with just a hint of very light blue towards the edge of the falls. Nicely ruffled.
Iris 'Silver Moon'
$9.95 Ruffly flowers of cream to a very delicate lilac, blushed a bit darker towards the inner part of the falls. This is unregistered with the American Iris Society.