The auricula primroses that are currently listed on this page (as of November 2018) do not include all that we will be offering in 2019. Some have been recently propagated and for the time being, are too small to list. By February we hope to be adding them back to this page - another dozen or two varieties.
Primula auricula
Auricula primroses have thick, fleshy leaves that are evergreen. They can take severe winter cold, surviving well to −35 to −40°F, with protection such as snow cover. When grown where summers are especially warm, they need a bit of shade during the hottest part of the afternoon.
Primula 'Andrea Julie'
$8.95 Richly reddish flowers with lighter edges to her petals. The petals are beautifully rounded. And the center eye of a flower is a rich gold.
Primula 'Arctic Fox'
$8.95 A double flower in reddish-purple, it was selected and named by Linda Tinnity and Jim Fox. Vigorous, thriving in Alaska without protection.
Primula 'Argus'
$8.95 Dark red petals that are a lighter pinkish-red at their edges, 'Argus' is an old primrose that was selected and named in 1897, over one hundred years ago. The eye in the center is a light, cream.
Primula 'Balcom's Semi Double'
$9.95 Frilly-edged, white petals are often semi-double, although they can also be single.
Primula 'Barbara Weinz'
$10.95 The petals are large, and a dark blue-purple, encircling a well formed white eye. The plant is compact and vigorous. This plant was first grown by Barbara Weinz of West Bath, Maine, who grew it from seeds acquired from Herb Dickson.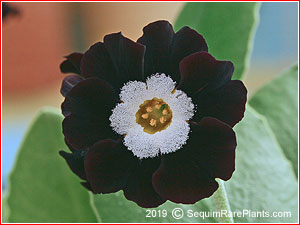 Primula 'Black Star'
$10.95 A single row of petals in a very dark red, bordering on black. We have Cheri Fluck of Sherwood, Oregon to thank for sharing this beauty with us.
Primula 'Brown Bess'
$12.95 Reddish-brown shaded to light beige with a gold center.
Primula 'Cornmeal'
$11.95 The petals are heavily dusted in powdery meal. They are a grayish green with a blaze of black at their bases, creating a circle of inky blackness surrounding an inner circle of white and a yellowish eye. The white circle ages to a similar color as the eye. Grown by Cyrus Happy. Classified as a gray-edged show auricula.
Primula 'Doublet'
$8.95 'Doublet' has double flowers with rich purple petals.
Primula 'Douglas Black'
$9.95 A "self" of very dark red petals that are near to black.
Primula 'Flaxen Honey'
$10.95 Light, tannish brown petals.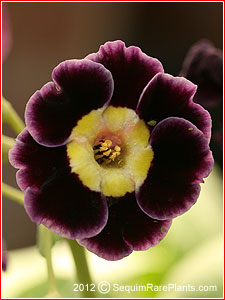 Primula 'Gordon Douglas'
$8.95 Deep reddish-purple, lightening at the edges.
Primula 'Green Shank'
$10.95 Classified as a "fancy" auricula, 'Green Shank' is equally colored in green, rich red and white, with green and red petals and an inner ring of white.
Primula 'Jeffa'
$8.95 Rich purple petals that lighten at their edges.
Primula 'Lemon Chiffon'
$8.95 Creamy light lemon yellow blossoms, named by Herb Dickson.
Primula 'Lincoln Chestnut'
$13.95 Double flowers of cinnamon-brown, orignially from Derek Salt.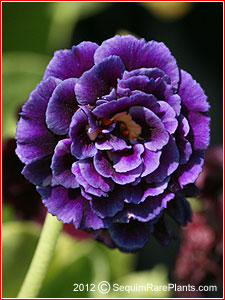 Primula 'Marie Crousse'
$10.95 Double purplish-mauve flowers.
Primula 'Marmion'
$9.95 The petals have a green edge and a black base, surrounding a ring of pure white, with the a light yellow inner eye. This beauty grows vigorously.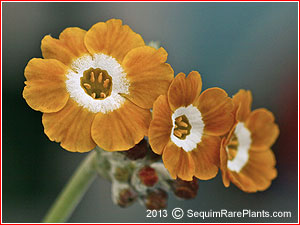 Primula 'Old Mustard'
$8.95 'Old Mustard' has medium tan flowers with white eyes. The clusters of flowers come on especially tall stems to eight inches.
Primula 'Osbourne Green'
$8.95 The shape of this flower is different from most of these primroses. It is long and funnel shaped with a cream center surrounded by an edge of purple tinged green.
Primula 'Pegasus'
$11.95 'Pegasus' has intense, blood-red flowers that are double.
Primula 'Robinette'
$13.95 Double flowers. The young flower buds are dark at first, and lighten as they open to a rich, ruby-red.
Primula 'Rose Congou'
$10.95 Lightly Ruffled petals on full, double heads are reddish-purple, and lighten at their edges. Long blooming with compact growth to five inches.
Primula 'Rosemary'
$9.95 Beautifully rounded petals of rich red flowers. The center of each flower is a pure white.
Primula 'Sandra'
$10.95 A delight of rose-red that is paler at the edges of the petals, and with a creamy eye at the center.
Primula 'Sword'
$10.95 An unusual green-edged, double flower on a plant that grows vigorously.
Primula 'Trudeau'
$8.95 This very vigorous plant has very large flowers of rich wine coloring. To emphasize again, it is a strong grower.
Primula 'Trudy'
$11.95 Her petals are a rich dark red surrounding a clear white eye. Especially attractive are the leaves with their covering of silvery meal.
Primula marginata 'Herb Dickson'
$10.95 Leaves that are gently toothed along the edges, with flowers that are a medium violet.
Primula marginata 'Mauve Mist'
$10.95 Clusters of plum-purple will bloom March into April on stems of 6 to 8 inches. Its attractive, evergreen leaves are deeply notched with soft teeth. For best growth, a site that is partly shaded.
Primula marginata 'White Linda Pope'
$12.95 Toothed margins of the leaves define this species of primrose. Large white flowers bloom in late March to early May. The leaves are succulent and often dusted in a silvery-gray meal. The flowers of 'White Linda Pope' grow to about six inches tall. The leaves are lower, and grow slowly into a widening clump. It is evergreen and is decorative in leaf when not blooming.
Limited quantity -- limit of one per order, please.
Un-named Auricula Primroses
Here are several un-named auriculas. They are propagated by division.
Primula 7810
$6.95 Ragged-edged, striped flowers of reddish purple, green and cream.
Primula 8195
$6.95 The wide creamy center bleeds into a violet purple edge.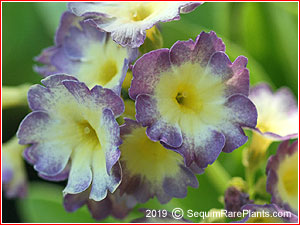 Primula 8202
$6.95 Lavender petals blending into a wide creamy-yellow center.
Primula 8212
$6.95 Light lavender peatals blending into a creamy center.
Primula 8413
$6.95 Ruffled flowers with a light yellow center, and rose-violet petals.
Primula 8415
$6.95 Bicolor of light yellow and purple.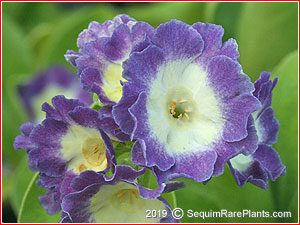 Primula 8416
$6.95 Light to medium lavender petals blending into a creamy center, this time with a thrum flower type.
Primula 2005-4
$6.95 A ragged edge of dark reddish purple and green with creamy white in the center.
Different types of primrose flowers
On the left in the picture -- a diagram of a pin-eyed flower, cut from top to bottom (longitudinal cross section), and on the right -- a diagram of a thrum-eyed flower, cut from top to bottom.
Insects visit the flowers in search of nectar, which is located at the bottom of the flower tube. This means that only long-tongued insects can actually reach the nectar in the base.
An insect such as a Brimstone butterfly (Gonepteryx rhamni), visiting a pin-eyed flower, gets pollen stuck to the middle of its proboscis from the anthers half-way down the flower tube. If it then goes to visit a thrum-eyed flower, the pollen is perfectly positioned to be wiped off on the stigma, in this case, halfway down the flower tube.
The reverse is also true. If the butterfly first visits a thrum-eyed flower, pollen is wiped off onto the top of its proboscis as it searches for nectar. This is then ideally placed to be transferred onto the stigma of the next pin-eyed flower which it visits. Diagram and information are courtesy of countrysideinfo.co.uk.