Acanthus 'Tasmanian Angel'
$14.95 Commonly known as bear's breeches, this perennial likes morning sun and afternoon shade. Its large green leaves are mottled in creamy white to light yellow. Because of the leaves' size, it is a plant best grown in soil that is moister than average. Its mature size is 2 ft x 2 ft, with taller flowers. Grows well in USDA zones 7 - 10.
Aeonium 'Variegata'
$7.95 This unusual, variegated plant is derived from one that is native to the Canary Islands where winter temperatures stay well above freezing. In summer it likes lots of sunlight. Being very drought tolerant, make a note to let it dry out well between infrequent watering. Reaches several feet tall in a few years.
Aeonium 'Zwartkop'
$8.95 This succulent is prized for its dark, uniquely colored leaves that in strong light will be purplish black. It is a branching shrub that will reach three to four feet in height over several years. Its architectural shape contrasts well with most other plants, and is great planted in containers. Let it dry out between waterings. Cannot take much cold, although it is said to survive to 25 or 30°F.
Agapanthus 'Ed Carman'
$17.95 Strap-like leaves are green, with variegation running the length of the leaves that can be a golden-yellow to creamy white depending on season and garden conditions. The creamy variegation is echoed in the pure white flowers that come in heads of round clusters. Mature height of 2 or 2½ feet. Needs winter protection from frost. Ed Carman was widely known in California for his nursery's collection of unusual plants.
Agapanthus 'Northern Star'
$14.95 Also known as lily-of-Nile, the round heads of medium blue, star-like flowers bloom profusely in July and August atop stems of 24 to 30 inches. The deciduous leaves are very distinct, having dark violet blue/black bases. One of the most cold tolerant agapanthuses, it is hardy as far north as USDA zone 6. When cold weather arrives in fall, the leaves turn yellow and disappear until spring returns.
Agapanthus 'Polar Ice'
$11.95 The white flowers have a very light touch of violet and bloom for many weeks in July and August. The round heads of blossoms are five to six inches across on top of long green stems. They make a good cut flower. One of the hardiest of agapanthuses, it is cold hardy to USDA zone 6. In summer it relishes frequent watering, however when dormant in winter, it needs ground that drains well to be able to survive the cold. One of the finest and hardiest of the lilies-of-the-Nile.
Agapanthus 'Summer Gold'
$11.95 A smaller scale plant than the agapanthuses usually seen in gardens, both the leaves and flowers of this have lovely colors. The leaves are striped in creamy yellow. They are evergreen. The flowers are a light to medium blue and low at a height of twelve to eighteen inches. This lily-of-the-Nile is hardy to USDA zone 8 (+10° to +20°F). Introduced from Japan by Barry Yinger. Where winters are colder than Zone 8, it would make a good container plant.
Alstroemeria 'Fabiana'
$9.95 Growing ten to fourteen inches tall, this dwarf will flower a long four months in summer. Hardy in USDA zones 7b to 10, in colder climates it is very easy to overwinter indoors in a pot. It is a good plant for the Deep South, being tolerant of heat and humidity, although it would appreciate partial shade from the afternoon sun. The photo here does not do it justice. The leaves are a rich green edged in creamy white. And the large 2½-inch flowers are a matching creamy white, lightly spotted in yellow and dark red. When one shoot of flowers starts to fade we recommend gently pulling it up, out of the ground, to separate it from the rest of the plant. Doing this will not harm a plant, but allows more room for other flowering shoots to develop.
Anemanthele lessoniana
$9.95 Poplularly known as pheasant-tail grass, this grows to a moderate height between 2 and 2½ feet. It is clump forming and does not run at the root. The habit is soft with the top of the grass splaying over a bit and gracefully arching. A major highlight of the plant is its russet colors (although young plants may start out green). Grow it in full sun and allow it to dry out between waterings. Native to New Zealand. Hardy to 10°F. Also known as
Stipa arundinacea.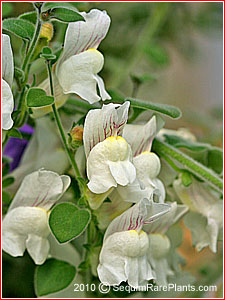 Antirrhinum glutinosum 'Gummy'
$6.95 This low, moderately spreading perennial has gray leaves covered in hairs and sticky stems that spreads eight to fourteen inches wide and grows four to eight inches tall. It does well either planted out in the garden in spring or grown at the edge of a container garden where it will flow over the edge charmingly. As a native of Spain it can take severe heat, and will flower from the beginning of summer until frost. Flowers of light yellow to creamy white, are one-inch long. USDA zones 8 to 11.
Arabis alpina subsp. caucasica 'Variegata'
$6.95 Popularly known as rock cress, this unusual form has grayish-green leaves edged in cream that are evergreen, and can light up a garden year around. White, four-petaled half-inch wide flowers appear from early spring until the weather starts warming up. It needs only average soil. The soil having good drainage is particularly important. Doubly colorful with its flowers and foliage, it does good duty in a rock garden, as an edging plant, and planted in the crevices of a rock wall. Native to mountains in Europe, its can survive winter cold to USDA zone 3.
Armeria 'Little Penny'
$7.95 Known popularly as sea thrift or sea pink, this dwarf grows as a tight bun, expanding wider with each succeeding year. Low, small clusters of pinkish flowers come in May, June and intermittently thereafter. The leaves are evergreen, and during winter turn reddish. Especially small (and cute). USDA zone 4.
Aster alpinus 'Pinkie'
$6.95 'Pinkie' is a low growing plant that is notable for its flowering in late spring, rather than in fall as is usual for most asters. This is a selected color form with bright pink flowers with golden eyes. We propagate it vegetatively so the flowers will be uniform in color. Because its parents are native to mountains in Europe, it is better suited for growing in cooler climates rather than where summers are warmer. It is especially suited for a rock garden, or planted towards the front of a flower bed. USDA hardiness zones 4 - 7 in the East, zones 4 - 8 in the West. And even farther north to zone 3 with snow cover or other protection.
Aster nova-angliae
'Alma Pötschke'
$6.95 This aster reaches four feet tall (staking may be necessary) and blooms from late summer into mid-autumn, making it an excellent choice for an eye-popping splash of color at season's end. Not only do butterflies love it, but it makes a good cut flower. It thrives in a wide range of conditions, doing best it full sun and an evenly moist soil. USDA zones 3 - 8, to zone 9 in the West. A winter mulch is recommended.
Aster 'Tiny Tot'
$6.95
Aster novi-belgii
'Tiny Tot' is a very dwarf form of New York aster. Its height is half a foot, growing bushy, in a rounded bun. From late summer into October small purplish daisy-like flowers will cover the plant. The species name,
novi-belgii
, derives from 'New Belgium,' that was an early name for New York. USDA zones 3 - 8, to zone 9 in the West. (syn.
Symphyotrichum novi-belgii
)
Aster tongolensis 'Napsbury'
$6.95 The growth of
Aster
'Napsbury' is low and spreading. In early summer numerous stems rise to 12 - 15 inches. Each stem carries a large, single daisy of violet-blue with a bright golden-orange eye. The petals are thin and reflex downwards as they age. Easy to grow in average garden conditions. USDA zones 4 - 8.
Astilboides tabularis
$10.95 This used to be named as a
Rodgersia
. It needs similar care - moister ground than usual and filtered sunlight or afternoon shade. It has a different appearance, having even larger, completely rounded leaves of 2 or 3 feet wide on a full sized plant. Taller than the leaves are its clusters of fragrant, white flowers from summer lasting well into fall that resemble the flowers of
Astilbe
. The foliage will be two to three feet tall, with flower stems from three to five feet tall. Is very striking alongside a pond. Hardy in USDA zones 5 - 9 in the West and zones 5 - 7 in the East.
Aurinia (Alyssum)
'Dudley Nevill Variegated'
$8.95 An easy-to-grow, choice perennial that thrives in full sun and hot, exposed sites. It needs soil that is well drained and low in fertility because rich soil promotes sprawling, floppy growth. Rather than growing tall, it grows as an ever-widening mat. We recommend shearing it back lightly just after flowering. Clusters of small, bright apricot flowers cover the plant in spring. The leaves are gray-green edged in cream and are semi-evergreen. Hardy in USDA zones 3 to 7 in the eastern half of the U.S. and hardy in USDA zones 3 to 9 in the West.
Bergenia ciliata
$10.95 This uncommonly seen groundcover is adaptable to very dry shade and moister shade. While most bergenias are evergreen,
Bergenia ciliata
drops its leaves over winter. Take a closer look to note the light fuzz of soft hairs that cover the leaves and the leaf stems. The garden writer, Christopher Lloyd, described this species as quote, "beautiful," in his book on garden foliage. We agree. Very undemanding once established. It grows well in USDA zones 5 - 8, and also zones 9 & 10 in the West.
Bergenia 'Tubby Andrews'
$11.95 This very cold hardy perennial has evergreen leaves of green and creamy yellow in summer. When cold weather arrives in fall the coloring changes to green and various tints of pink to darker red. The colder the days become, the richer the coloring. As warm weather returns the following spring, the colors revert to creamy yellow and green on the new leaves. Although the plant demands little attention from year to year, we divide it every few years because the variegation is most colorful on a younger plant and becomes more subdued after a few years on an older plant. Pink flowers show in spring, and again in fall. USDA zones 4 - 7 in the East, 4 - 9 in the West.
More info, click here.
Calceolaria arachnoidea
$7.95 The contrast between the gray, felty, spoon-shaped leaves of this plant and its round, darkly purple flowers is dramatic. Coming from from the Andes of Chile, at elevations of 10,000 ft., it can take winter cold to USDA zone 6. In Chile it is often covered by snow in winter. However in your garden it won't survive if the ground is soggy wet in winter. The flowers are on stems several inches above the foliage. The plant will be two feet tall by slightly less wide. It starts to flower in early summer and continues on to the first frosts of fall.
Calceolaria 'John Innes'
$7.95 This calceolaria or slipperflower is a hybrid of two species that are native to colder, very southern parts of South America, and it can take quite severe cold, to USDA zone 5. The plant is very low at six inches and spreads slowly wider in a compact mass. The flowers are large in size, the size of a U.S. nickel, and bright yellow, with a few brown speckles on the flower. It likes both good drainage at the same time as not liking to fully dry out, in other words, ground that is moisture-retentive and quickly draining. If allowed to dry out too much in summer it will go dormant early. However just because it disappears above ground, don't think that it has died.
Campanula 'Blue Waterfall'
$7.95 (PP# 13,161) Mat-forming growth to eight inches tall that cascades attractively over the edge of precipices. When trailing down a wall or over the edge of a hanging basket, its violet-blue flowers (lighter in the center) have a lovely effect. With a season from early to late summer. 'Blue Waterfall' will reach a foot wide during its first year and by its second year reach two feet across. Lightly shearing it as new growth appears in early spring is recommended. USDA zones 4 - 7 (and zones 8 and 9 in the West).
Campanula cochlearifolia 'Elizabeth Oliver'
$8.95 The double flowers of this elfin plant are small and a very light blue in color. Popularly called fairies thimbles, they show for many weeks in late spring in warmer climates, and in summer to fall in northern gardens. The plant's height is four inches, and it spreads modestly without over-crowding its neighbors. It is quite cold hardy, surviving winters where temperatures may drop to minus 20°F, or to minus 40°F if there is snow cover. It likes its roots kept evenly moist and cool. One way to achieve this is with shallow, wide rocks such as paving stones nestled into the soil, and planting this between them -- the soil under the stones stays moister and cooler than the soil in the open ground. The roots will spread out under the rocks and be happier.
Campanula x haylodgensis 'Blue Wonder'
$7.95 Double violet flowers bloom in summer on this low bellflower that is a cross between two species,
C. cochlearifolia
and
C. carpatica
. Its flowers are about twice the size of
Campanula
'Elizabeth Oliver's' blossoms. And they show well, facing upwards and outwards. Small in stature, growing about 4 inches tall, and very cold hardy, to -20°F.
Campanula persicifolia 'Chettle Charm'
$8.95 Among bellflowers, this species is distinct for its tall, thin graceful habit and large bell-shaped flowers. This particular plant has flowers of white, beautifully edged in pale lavender. The height of the flower stems will be to thirty inches. And they make a superlative cut flower for your home. They are the perfect length for a vase and have a long life as a cut flower. Their subtle coloring compliments most any arrangement. Quite cold hardy, to USDA zone 4 (-30 to -20°F). Unfortunately it is not a plant for the deep South.
Campanula 'Sarastro'
$8.95 The color of this flower is unusual — a smokey grape-purple. It is a very nice hybrid between two species,
C. punctata
and
C. trachelium
. It reaches a moderate height of eighteen inches with a long flowering season in summer, and with flower stems that are strong enough not to require staking. Its moderate growth is not rampant. All in all, a wonderful plant to add to a flower garden! USDA zones 3 - 9.
Campanula scheuchzeri
$6.95 (pronounced 'skook-zer-i) This species of bellflower has purplish-blue blossoms, growing as a low clump of leaves with flower stems of six to ten inches. It is a good size for a rock garden or towards the front of a garden bed. Spreading vigorously wider with new shoots coming from underground, it is not particular about its soil, although it would like to be kept moist through summer. Grows well in partial shade to full sun. USDA zones 4 - 7, and zones 8 and 9 in the West. The Latin name of the species honors the Swiss botanist, Johann Jakob Scheuchzer (1672 - 1733).
Convallaria majalis 'Aureovariegata'
$8.95 Lily-of-the-valley is an attractive old fashioned ground cover for large shady areas. Small purplish "eyes" appear at ground level in early spring, that develop into eight-inch long pointed green leaves that are striped lengthwise with creamy markings. Highly fragrant bell-shaped white flowers come in spring. While tolerant of most soil conditions, moist soil that is rich and slightly acidic is preferred for these woodland natives. Plants multiply rapidly in favorable conditions, and should not be planted if their spreading would be a problem. Occasionally a shoot with all-green leaves will appear that should be removed to keep your spreading colony well clothed in these striped leaves.
Cortaderia selloana 'Splendid Star'
$14.95 This dwarf golden-variegated pampas grass is a smaller version of pampas grass, not like the sort that grows so large that it can overwhelm a garden. And it is evergreen with narrow, arching leaves of green and creamy yellow, keeping its colors and being attractive all year around, in contrast to many other ornamental grasses than turn brown during winter. Its mature height is 2½ feet for the leaves and 3 to 4 feet for the seed plumes, which show at summer's end. Hardy in USDA zones 7 - 11. Cannot be sent to California. Limited quantity.
More info, click here.
Corydalis ochroleuca
$6.95 Clusters of white and yellow blossoms with filligreed leaves of green. This is a long-blooming, shade-loving flower, beginning its season in spring that can continue through summer and on into fall. A single plant of this may not bloom that long, however a group or colony likely will. A single plant of
Corydalis ochroleuca
is not long lived, but the seeds that it drops will sprout easily, and within a couple of years establish a self-perpetuating colony. Height of about a foot. Growing well even in dry shade. Cold hardy to USDA zone 5.
Crinum x powellii 'Album'
$7.95 In August and September, these large, pure white trumpets show on stems that are 24 to 39 inches tall. During the afternoon and evening the flowers are sweetly scented, and catch the light of the moon after sundown. The plant grows from a bulb much like an amaryllis, surviving in USDA zones 7 to 10, eventually multiplying into a group of bulbs. It likes a rich, moist soil, though tolerates drier conditions. In colder areas, mulching during winter is recommended. Or it grows well in a pot year-around. This is a hybrid of two species,
C. bulbispermum
and
C. moorei
.
Cymbalaria muralis 'Variegatus'
$6.95 Known as Kenilworth ivy, this variegated form has leaves of green and a crisp, creamy white. It grows best in partial shade, or in locations with morning sunlight and shade in the afternoon. In mild climates, the foliage is evergreen to semi-evergreen. Does not grow well where summers have high heat and humidity. Growing moderately fast, it's easy to control its spread, so not considered invasive. Native to Asia and Europe. The tiny flowers are white and yellow, like miniature snapdragons, blooming from May to September. USDA zones 5 - 8.
Cytisus battandieri
$12.95 This uncommon low tree has clusters of fragrant yellow floweres in early summer, bringing to mind the fruity scent of pineapples. The semi-evergeen foliage is silver-gray and attractive. It is very drought tolerant, and reaches a mature height of ten to twenty feet. When in flower, passers-by have a hard time guessing what it might be, it's so little seen here. For USDA zones 7 - 10. Other names it goes by are Moroccan broom or
Argyrocytisus
. Limited quantity.
Deinanthe caerulea 'Blue Wonder'
$8.95 Growing as a clump to eighteen inches tall, this needs partial shade and soil that will not dry out too much. It is related to hydrangeas, although it doesn't grow as a shrub but sprouts from the ground each spring with large, broad and textured leaves of green. In July and August flowers of light lavender appear at about the same height as the leaves. Its flowering season is long, with new buds opening in succession. Each flower is between an inch and two inches across and faces outwards or nods slightly downwards. It is native to woodlands in China. Hardy to −5°F.
Dianthus 'Charles Musgrave'
$9.95 A flower that is extremely fragrant and notable for its unusually colored eye of green. With fairly long stems, these flowers are good for a bouquet. We recommend a once-a-year shearing after the flowers are past, to keep the plant well groomed. USDA zones 5 - 9.
Dianthus 'Chomley Farran'
$11.95 Harking back to an old Flemish still-life, the fuchsia-red and violet-gray bi-colored flowers are large and fragrant. It is said to have appeared as a natural sport of a crimson border carnation in an Irish garden only a short few years ago. Each flower is about an inch and a half wide, fully double, on a stem of twelve inches. Hardy to USDA zone 6. Needs full sun and well drained soil. The bluish-gray leaves are large and evergreen.
More info, click here.
Dianthus 'Dainty Dame'
8.95 Petals of pristine white surround a dark red eye, with flowers the size of a twenty-five cent piece. It is very floriferous from spring into fall. And is very sweetly fragrant, this fragrance carrying some distance in the air. Its growth is tight and compact. Its leaves are are a lovely, chalky bluish-green. Grows well from USDA zones 3 - 8.
Dianthus 'Old Square Eyes'
9.95 This dates only from about 1980 when it was found as a chance seedling in a garden on the British Isles. The single flower is large at 1 to 1½ inches across, of white with a salmon-pink eye, and is sweetly scented, blooming in late spring. As a flower ages the salmon-pink covers more of the petals. The flower stems are just over a foot long, a good length for a vase. USDA zones 5 - 9.
Dianthus 'Queen of Sheba'
$9.95 To quote
Old-Fashioned Flowers
, a handbook of the Brooklyn Botanic Garden, "Dianthus in all its many forms has played a seminal role in gardens for 2,000 years, at least. The most beloved is
Dianthus plumarius
, parent of so many 17th-century cinnamon pinks (also known as clove pinks), including 'Queen of Sheba'..." An old plant from the early 1600's, 'Queen of Sheba' has a single row of petals that have a blaze of white on the center of each petal and edged with a fringe of rose-red. The flowers are strongly and sweetly scented.
Dianthus 'Sops in Wine'
9.95 Intensely fragrant flowers have a single row of petals, each petal colored in deep red and white. The foliage is a glaucous blue. Flowers May into June in size of eight inches wide by eight to ten inches in height. USDA zones 4 - 8.
Dianthus 'Sweetheart Abbey'
$9.95 The ruins of Dulce Cor or Sweetheart Abbey can be found today in the town of New Abbey, five miles south of Dumfries in southwest Scotland. It dates from 1273. This fragrant flower has a full head of double petals, colored in crimson that lightens at the edges. The petals' edges are fringed with a sawtooth pattern as if cut with pinking shears. Hardy to USDA zone 6. Needs full sun and well drained soil.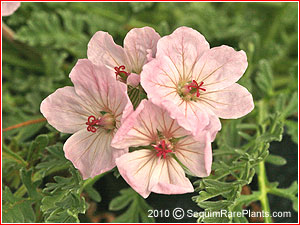 Erodium absinthoides
$8.95 Clusters of beautifully light pink flowers decorate the finely textured leaves of grayish green. Once established in a garden this plant is drought resistant. USDA zones 6 - 9. As a side note, the sexes occur separately -- the plants we offer are all females. Native to parts of southeastern Europe and Sicily.
Erodium chrysanthum
$8.95 From Greece, this yellow storksbill or heronsbill needs at least a half day of sunlight for healthy growth. In hot summer climates, it would like afternoon shade. It has light pastel yellow flowers beginning early in summer and again in fall. It flowers better in a poor, lean soil. With water conservation a growing need this is one plant that would fulfill your desire for a plant that thrives in a dry or xeric landscape. Height will be five inches with a spread of twelve inches. Hardy to USDA zone 5. Its leaves are lacey and grayish.
Erodium x kolbianum 'Natasha'
$8.95 Small in scale, this plant has lacey, feathery gray leaves and pale pink flowers with purple veins and purple blotches on the upper two petals. Its height is two or three inches, with the flowers another two or three inches above. Grows easily in the sunny, open garden. Quickly draining soil is best for its longterm survival over winter. Hardy to USDA zone 5.
Farfugium japonicum 'Argenteum'
$21.95 This grows to 2 feet tall, and even to 3 feet with ideal conditions in shade. The round leaves grow up to ten inches across, green with white creamy margins,and sometimes with a touch of pink. The leaves and stems can be lightly covered with downy fuzz, that rubs off when touched. Yellow daisy-like flowers show at the end of summer, often no taller than the leaves. Cold hardy to USDA zones 7 - 11. The large leaves may wilt on hot sunny days, and might not be a sign that the soil is dry. So if they wilt, check before watering. If the roots are kept too wet, they can rot. Also known as
Farfugium japonicum
'Albovariegatum' and
Ligularia tussilaginea subsp. argentea
. The plants are grown in quart-sized pots.
More info, click here.
Farfugium japonica 'Aureo-maculatum'
$8.95 Popularly known as leopard plant for its dark green leaves, spotted in yellow. The leaves are large and round, at eight to ten inches across, and glossy. In fall, yellow daisy-like flowers arise on stems about the same height as the leaves. They are eighteen to two feet tall. Needs shade during the afternoon. An ideal location would be a rich soil with partial shade. USDA zones 7 - 11, and possibly to zone 6 with protection. Where winters are colder, it is easily grown in a container and wintered indoors. Its leaves are evergreen and attractive all year round. Keep evenly moist.
Felicia ameloides 'Variegata'
$5.95 This is one of our favorite plants for container gardening because it blooms for such a long time and is so undemanding. A native of South Africa, it is commonly known as blue marguerite, a perennial that isn't frost hardy although it is easy to carry over winter by a sunny window. Reaching a height of 15 to 18 inches, with a wider spread, it responds well to shearing and pruning. The sky-blue flowers really stand out against the variegated leaves. Normal watering needs.
Fuchsia fulgens 'Variegata'
$11.95 Rarely offered, this upright, rounded shrub grows to a size of three tall by four feet wide when planted outdoors. Its roots survive to USDA Zone 8 (and even to Zone 7 in favored locations). It has flowers from summer to fall colored in salmony pink, cream and orange-red, each flower being long and pendant. This species of fuchsia is native to Mexico. Older plants have tuberous roots resembling the roots of a dahlia. USDA hardiness zones 8 - 10.
Fuchsia procumbens 'Variegata'
$8.95 This is a very curious little plant, a low growing and prostrate shrub from New Zealand, that doesn't look much like a typical fuchsia. The leaves are small, rounded and irregularly mixed with cream, pink and green. The flowers are upright, not drooping as is usually seen, and are colored amazingly in yellow and purplish-red, with blue pollen. Established roots are hardy to 10°F. Flowers from June to October.
Fuchsia 'Lottie Hobby Variegated'
$8.95 A small leaved upright fuchsia with tiny pink flowers, this has leaves of green and white. In a window that receives morning light it would be happy in a small pot on the window sill. In summer it can be moved outdoors. It would also be a nice addition to a mixed container of flowering plants. Cold hardy to USDA zones 9 and 10, and possibly zone 8 with protection.
Gazania ringens 'Variegata'
$6.95 Blooming continually all summer, from spring to fall, this golden daisy-like flower has flowers that are 2½ to 3 inches across. Its leaves are green and white. A tender plant, it can only be grown outdoors in the ground in USDA zones 9 to 11. In colder zones, it could be grown in a container and brought indoors for the winter, or simply replaced each spring with a new plant. So colorful in both its foliage and flowers, and so long blooming, that more gardeners should grow it. With a height up to just over a foot, it spreads wider, up to two feet. Average to low water needs.
Geranium pratense 'Mrs. Kendall Clark'
$9.95 Lovely pastel lavender-blue flowers with chalky white veins are held above the foliage of finely divided, green leaves. Her mature height is 2+ feet tall by 3 feet wide, and she has a long season of bloom, beginning in late spring. Grows well in clay soil. USDA zones 4 - 8, and zone 9 in the West.
Glumicalyx goseloides
$8.95 With a name of nodding chocolate flower, this unusual and brightly colored perennial has leaves and flowers that are fragrant, the flowers are reminiscent of chocolate and the leaves with a different spicy scent. The flowerheads face outwards and downwards, or "nod". Although cold hardy to -10°F, rather than growing it in the ground, we like it best when grown in a pot and placed where its sweet scent can be enjoyed close-up. It grows to about 15 inches tall with nodding clusters of orangish red blossoms. You will have flowers from late spring through late summer if you deadhead the flowers as they age, before they set seeds. A native of South Africa.
Hedera 'Spetchley'
$6.95 This ivy has extremely teeny, tiny leaves. The leaves are three-lobed and solid green. There is a thirty acre estate on the British Isles named Spetchley Park, three miles from Worcester, where it likely originated in 1962, although I do not know the details. Winter hardy to USDA zone 5.
Helleborus 'Janet Starnes'
$11.95 Named for plantswoman Janet Starnes of Molalla, Oregon, who found the original in a batch of seedlings. The shining blue-green leaves are dusted with galaxies of white and dark green stars. New leaves, almost cream colored, are fringed with pink; older leaves darken to a marbled green. Clouds of soft green flowers in early sping. Blooms on the previous year's growth. The flowers are showy, but the main attraction is the unusual foliage. Cold hardy to -10°F
Hemerocallis fulva 'Kwanso Variegata'
$17.95 (variegated, double-flowered daylily) This plant,
Hemerocallis fulva
'Kwanso Variegata,' is named following the guidance of the book,
The Daylily: A Guide for Gardeners
, by John P. Peat and Ted L. Petit. Having double flowers of orange, once it reaches flowering size a plant will spread quickly by underground shoots, so it requires effort to keep it within bounds. And it has been criticized for sometimes having sideshoots that are all-green. We notice this with our plants, and discard any all-green sideshoots when they first show in spring. In any case the plants we send will have striped leaves, so you will be off to a good start ! Cold hardy to -35°F.
Hermannia pulchella
$8.95 Fondly known as honeybells, this low woody shrub has bright, yellow flowers that are sweetly fragrant, and a plant will bloom continuously through summer. The scent carries on the air some distance, especially when the weather is warm. It isn't frost hardy, so needs to be carried over winter indoors in areas colder than USDA zone 10. If you can move it into a greenhouse for the winter, it will likely continue to flower during December, January and February. Grows happily in a container either on its own or combined with other sun-loving plants. It might be a good idea to lightly root-prune it every few years. We recommend pinching out the growing tips off and on during summer, otherwise the shoots may grow long and unbranching. Rarely offered by nurseries. Native to South Africa.
Hippeastrum x johnsonii
$7.95 Popularly called Saint Joseph's lily, this relative of the florists' amaryllis has trumpet flowers of rich scarlet with a creamy heart in late spring. Growing from a bulb, it is naturalized in gardens in southern California and the Deep South, and is undemanding in climates warm enough for its survival. To flower well it needs at least a half day of sunlight. In time a plant will produce many smaller bulbs around itself. Lightly fragrant, several flowers are produced per stem. Needs well drained soil. It is claimed to grow to USDA Zone 5 by at least one authority. We cannot verify this, but know for certain that it survives to at least USDA zone 7.
More info, click here.
Iris foetidissima 'Variegata'
$11.95 Prefering shade over sun, the dark green leaves irregularly striped in creamy white will turn yellow if planted in too much light. They reach a height of eighteen inches. Flowering is infrequent on this variegated plant, the flowers being pale lilac and amber. The colorful leaves are evergreen and decorate the garden all year. In gardens where winter temperatures drop into the teens Fahrenheit, the leaves may be damaged and need to be cut back in late winter. Cold hardy to USDA zone 7.
Iris japonica 'Aphrodite'
$8.95 From Japan, this woodland iris needs shade. Pale, creamy blue flowers, several to a stem open in spring. They are fringed and there are spots of orange and yellow dotted at the base of the falls. They are an inch to an inch and a half across and have something of an exotic look to them, a bit orchid-like. Plants will spread moderately by thin rhizomes. The leaves are equally streaked in green and cream. Height of the plant is ten to twelve inches. Hardy in USDA zones 7-9, although it can grow as cold as zone 5 in a protected location.
Iris lazica
$10.95 The flowers of this iris are a medium purple, and bloom from late winter to early spring on stems about eight inches tall. TheY are similar to the other winter-blooming iris we grow,
Iris unguicularis
, however the evergreen leaves of
I. lazica
are broader. Prefers partial shade rather than full sun. USDA zones 7 and 8, and zones 9 and 10 along the West Coast.
Iris x pacifica, Pacific Coast hybrids -- to go to a separate page offering them, click here.
Iris pallida 'Argentea Variegata'
$8.95 Attractive whether in bloom or out of bloom because of its broad, sword-like leaves that are striped in green and white. They are semi-evergreen. The light lavender flowers show in late spring, and are sweetly fragrant. Thrives in any well drained soil, growing well even in heavy clay. USDA zones 4 - 9, and to zone 3 with protection.
Iris pallida 'Variegata' ('Aureovariegata')
$8.95 The heavenly fragrance of these flowers is reason enough to grow this iris, reminding some folks of grape soda or possibly vanilla. The flowering season is late spring to early summer. The flowers are a light lavender. Flower stems to 3 feet. Leaves to about 2 feet, and are striped in green and a light golden-cream. When planting, set a plant high enough in the ground so the top of the thickened rhizome is not completely buried by earth. And to flower well, more sun than shade is necessary. Hardy from USDA zones 4 - 9, and to zone 3 with protection.
Iris sibirica 'Baby Sister'
$12.95 A young plant of this variety, 'Baby Sister,' when first planted in a garden will be taller, at twelve to fourteen inches, than it will be later on when the clump becomes crowded. Later on, the flowers will top out at eight to ten inches. The three-petaled flowers are a medium purplish blue, with darker veins and with a white blaze at the base of each petal. Its season is May into early June. Be sure to plant this deeply enough so that the top of the roots are slightly below the soil surface, and not planted as high as you would a bearded iris. It appreciates being watered regularly throughout the summer, although older plants can take some drought. Very cold hardy, for USDA zones 2 - 9.
Iris unguicularis 'Frances Wolseley'
$19.95 (Also known as
Iris
'Frances Wormsley.') Named for Frances Garnet Wolseley (1872-1936), who promoted the idea of women being professionally involved with horticulture. A medium lavender-blue surrounds gold and white markings at the base of the petals. Each flower is three inches across. A valuable winter-flowering perennial, it is hardy in zones 7 to 9, and to zone 10 in the West. In favored locations it can survive even to zone 6. Leaves grow 12 to 18 inches tall, and the flower-stems are shorter at eight inches. If you wanted, the evergreen leaves could be cut to the ground at the beginning of winter to better see the flowers, although they show well enough without doing this. To get the greatest numbers of flowers, let the plants grow older and wider rather than dividing them every few years as is recommended for some other irises. 'Frances Wolseley' is an especially vigorous grower. Limited quantity. Our thanks to John Elsley for the updated information.
Jovibarba heuffellii, cold-hardy succulents -- to go to a separate page offering them, click here.