Alyssum oxycarpum
$7.95 Low growing and spreading, the tiny gray leaves of this perennial alyssum last through winter. In spring, bright clusters of yellow flowers appear en masse. Native to Turkey and the Balkans. USDA zone 4.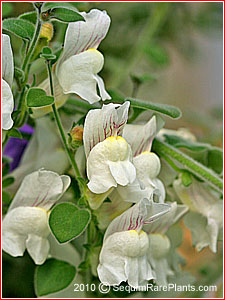 Antirrhinum glutinosum 'Gummy'
$6.95 This low, moderately spreading perennial has gray leaves covered in hairs and sticky stems that spreads eight to fourteen inches wide and grows four to eight inches tall. Not a plant for northern rock gardens, this is best in milder parts of the U.S., such as parts of California and the West Coast. It will flow over the edge of a slope, charmingly. As a native of Spain it can take severe heat, and will flower from the beginning of summer until frost. Flowers of light yellow to creamy white, are one-inch long. USDA zones 8 to 11.
Arabis alpina subsp. caucasica 'Variegata'
$6.95 Popularly known as rock cress, this unusual form has grayish-green leaves edged in cream that are evergreen, and can light up a garden year around. White, four-petaled half-inch wide flowers appear from early spring until the weather starts warming up, on elongating racemes that extend above and cover the foliage. A mature plant will reach eight to twelve inches tall when flowering, however otherwise will form a low mat of spreading growth with a height of six inches. It needs only average soil. The soil having good drainage is particularly important. For areas that have hot summers and high humidity, in areas south of Zone 7, it can be short lived. Doubly colorful with its flowers and foliage,
Arabis
is a good selection for a rockery, as an edging plant, and planted in the crevices of a rock wall. Native to mountains in Europe, it can survive winter cold to USDA zone 3.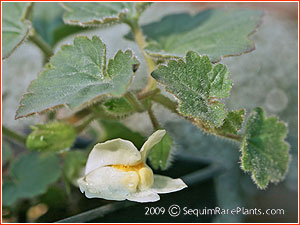 Asarina procumbens
$6.95 This is a relative of snapdragons from the mountains of the Pyrenees between Spain and France. This grows well in the garden where you will find it seeding itself about. So even though it isn't extremely winter hardy north of USDA zone 7, it can return year after year. With spreading, trailing growth, it likes filtered light as well as full sun, and flowers nonstop through summer. The round green leaves are lightly hairy. The flowers are 1½-inches long. A superb plant for crawling along crevices and over rocks, or trailing over the lip of a rock wall. USDA zones 7 - 11.
Aster alpinus 'Pinkie'
$6.95 'Pinkie' is a low growing plant that is notable for its flowering in late spring, rather than in fall as is usual for most asters. This is a selected color form with larger bright pink flowers with golden eyes. We propagate it vegetatively so the flowers will be uniform in color. Because its parents are native to mountains in Europe, it is better suited for growing in cooler climates rather than where summers are warmer. It is especially suited for a rock garden, or planted towards the front of a flower bed. USDA hardiness zones 4 - 7 in the East, zones 4 - 8 in the West. And even farther north to zone 3 with snow cover or other protection.
Calceolaria 'John Innes'
$7.95 Known as slipperflower, this is a hybrid of species, possibly of
C. plantaginea
and
C. polyrrhiza
, that are native to colder, very southern parts of South America. It can take winter cold to USDA zone 5 (-10 to -20°F). Its name comes from the John Innes Horticultural Institute, of Surrey, England, where it originated. The plant is low at six inches and spreads slowly wider in a compact mass. The flowers are large in size, the size of a U.S. nickel, although not round but longer, top to bottom. Each flower has its own four to nine-inch stem. Color of the flower is mainly a bright yellow, with a few reddish-brown spots on the pouch. It likes both good drainage, at the same time as not liking to fully dry out, in other words, ground that is moisture-retentive and quickly draining. If allowed to dry out too much in summer it will go dormant early. However just because it disappears above ground, don't think that it has died. A tip: choose a location such as a slope in full sun that is well drained, and mix in a generous amount of humus or compost to keep the roots moist.
Campanula 'Blue Waterfall'
$6.95 (PP# 13,161) Mat-forming growth to eight inches tall that cascades attractively over the edge of precipices. When trailing down a wall or over the edge of a hanging basket, its violet-blue flowers (lighter in the center) have a lovely effect. With a season from early to late summer. 'Blue Waterfall' will reach a foot wide during its first year and by its second year reach two feet across. Lightly shearing it as new growth appears in early spring is recommended. USDA zones 4 - 7 (and Zones 8 and 9 in the West).
Campanula x haylodgensis 'Blue Wonder'
$7.95 Double violet flowers bloom in summer on this low bellflower that is a cross between two species,
C. cochlearifolia
and
C. carpatica
. Its flowers are about twice the size of
Campanula
'Elizabeth Oliver's' blossoms. And they show well, facing upwards and outwards. Small in stature, growing about 4 inches tall, and very cold hardy, to -20°F.
Campanula cochlearifolia 'Elizabeth Oliver'
$8.95 The double flowers of this elfin plant are small and a very light blue in color. Popularly called fairies thimbles, they show for many weeks in late spring in warmer climates, and in summer to fall in northern gardens. The plant's height is four inches, and it spreads modestly without over-crowding its neighbors. It is quite cold hardy, surviving winters where temperatures may drop to minus 20°F, or to minus 40°F if there is snow cover. It likes its roots kept evenly moist and cool. One way to achieve this is with shallow, wide rocks such as paving stones nestled into the soil, and planting this between them -- the soil under the stones stays moister and cooler than the soil in the open ground. The roots will spread out under the rocks and be happier.
Campanula
'Elizabeth Oliver' was named for the daughter of a Mr. Bull, of Nottingham, England in the 1970's. The recommended way to propagate it is by dividing in spring or early summer.
Campanula pulla
$6.95 The leaves are a carpet of green. In summer, violet-blue dangling blossoms appear on short, upright stems of three and four-inches. Lovely in rockeries, the crevices of walls, steps and mixed containers, or for the front of raised beds. Relishes well-drained soil in full sun or partial shade. Cold hardy to minus 20 degrees Fahrenheit.
Campanula scheuchzeri
$6.95 (pronounced 'skook-zer-i) This species of bellflower has purplish-blue blossoms, growing as a low clump of leaves with flower stems of six to ten inches. It is a good size for a rock garden or towards the front of a garden bed. Spreading vigorously wider with new shoots coming from underground, it is not particular about its soil, although it would like to be kept moist through summer. Grows well in partial shade to full sun. USDA Zone 4 - 7, and Zones 8 and 9 in the West. The Latin name of the species honors the Swiss botanist, Johann Jakob Scheuchzer (1672 - 1733).
Campanula troegerae
$8.95 This unusual bellflower,
Campanula troegerae
, forms low mounds (to eight inches high) of gray-green leaves, covered in fine hairs. In late spring, the flowers start as pale pink buds, opening to become large, white and open-faced. A native to small region of Turkey. USDA zones 3 to 8. Limited quantity.
Dianthus 'Blue Hill'
$7.95 The tightly growing, low, domed cushion of evergreen foliage is a glaucous, bluish color, contending for the honor of having the bluest of leaves. In May and June, pink flowers show on five-inch stems. It shows best when grown in full sun and not crowded by taller plants. Attractive at all seasons. USDA zones 4 - 8, and to zone 9 in the West.
Dracocephalum ruyschiana var. argunense
$7.95 Known as dragonhead, this six to twelve-inch tall perennial is long-flowering and undemanding. Light true-blue flowers appear from June to August. Ideal places to plant it would be in a rock garden or spilling over the lip of a rock wall, at the front of a flower garden, and as a perennial addition to a container garden. It has richly green narrow leaves. Cold hardy to USDA Zone 5, or Zone 4 with winter protection. It comes from Korea and neighboring areas of Russia.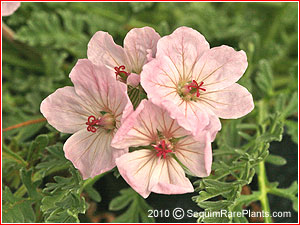 Erodium absinthoides
$8.95 Clusters of beautifully light pink flowers decorate the finely textured leaves of grayish green. Once established in a garden this plant is drought resistant. USDA zones 6 - 9. As a side note, the sexes occur separately -- the plants we offer are all females. Native to parts of southeastern Europe and Sicily.
Erodium chrysanthum
$8.95 From Greece, this yellow storksbill or heronsbill needs at least a half day of sunlight for healthy growth. In hot summer climates, it would like afternoon shade. It has light pastel yellow flowers beginning early in summer and again in fall. It flowers better in a poor, lean soil. With water conservation a growing need this is one plant that would fulfill your desire for a plant that thrives in a dry or xeric landscape. Height will be five inches with a spread of twelve inches. Hardy to USDA zone 5. Its leaves are lacey and grayish.
Erodium x kolbianum 'Natasha'
$8.95 Small in scale, this plant has lacey, feathery gray leaves and pale pink flowers with purple veins and purple blotches on the upper two petals. Its height is two or three inches, with the flowers another two or three inches above. Grows easily in the sunny, open garden. Quickly draining soil is best for its longterm survival over winter. Hardy to USDA zone 5.
Globularia cordifolia
$8.95 This plant is a creeper that has leathery, evergren leaves, and blooms in late spring with powder puffs of very light lilac-blue. It grows as a spreading mat, the low stems often rooting as they grow wider. Its height is two to three inches with slightly taller flowers. Grows well in full to part sun. It needs a gritty, well drained soil. A native to the Mediterranean basin. Hardy to minus 20°F.
Gypsophila cerastioides
$7.95 From late spring to early summer this alpine baby's-breath has masses of small white flowers that are beautifully striped in pink. Its small oval leaves are lightly hairy. It is easy to grow in a well-drained sunny site, with growth that is small enough for a trough or the front of a rock garden. In rich soil it tends to grow open and floppy, so plant in soil that isn't overly rich. For the best tight and compact growth, give it soil that is gritty and well drained. Grows 2 inches tall, spreading wider, to eight or ten inches. USDA zones 5 - 8. Native to the Himalayas.
Jovibarba heuffelii 'Irene'
$6.95 This succulent hen-and-chicks has leaves that are mostly a rich, medium red, being a lighter red closer to the center of the plant and a darker red towards the leaf tips. The leaf edges standout with a lighter coloring, due to the small hairs lining the edges. Cold hardy -20° to -30°F (USDA zone 4)
A few more
Jovibarbas
can be found on another
page of our website (click here)
.
Lewisia columbiana var. rupicola
$7.95 This lewisia is smaller in scale than other lewisias, with tight clusters of evergreen leaves, 1 - 3 inches long and ¼-inch wide.
Twelve-inch tall
sprays of small, open-faced flowers show for weeks in spring and early summer, colored in white with magenta/purple edging and striping. This is a drought-tolerant succulent. Be sure to plant in well drained earth. USDA zones 4 - 8.
Lewisia columbiana var. rupicola 'Saddle Mountain Form'
$7.95 Very compact rosettes of small evergreen leaves form a low, ground-hugging mat. Clusters of many beautiful rose-purple flowers show on stems of
5 to 6 inches tall
in mid-to-late spring and into summer. Saddle Mountain is located in the coastal mountains northwest of Portland, Oregon. USDA zones 4 - 8.
Lewisia cotyledon var. howellii
$9.95 Found in the wild at 5600-ft in the Klamath Range of California. It's a low plant, and in spring there are very low, short stemmed clusters of creamy flowers with pink veins. USDA zones 4 - 8.
Lewisia 'Little Peach'
$8.95 The peach flowers of this succulent are lightly blushed with pink and yellow, that bloom in mid-spring and a second time in late summer. 'Little Peach' is evergreen and grows 4 to 6 inches high and 6 to 8 inches wide. Its soil needs excellent drainage, such as grown in a clay pot that is allowed to dry out between waterings, or planted in a rock wall, a gravel scree or alpine bed. Not a plant for the South, in hot summer climates it does better with partial shade. A hybrid of
Lewisia longipetala x cotyledon
. USDA zones 5 - 8, and zones 9 and 10 in the West.
Lewisia tweedyi (pinkish-red)
$14.95 Limit of one per customer, please. This flower has colors of yellow and pinkish-red: light yellow at the base of the petals and rich pinkish-red towards the petals' tips. And the flowers of this
Lewisia tweedyi
are not as large as some others, being about an inch and a half across. Blooms for us in summer. Older plants can produce many flowers over an extended length of weeks. Slowly grows wider to eight inches or more. One of our best native alpines! It needs a summer dry period, and likes a little protection from winter wet. From the rugged Wenatchee Mountains of Washington State. USDA zones 4 - 8.
Nepeta nervosa 'Forncett Select'
$7.95 Growing to a size of ten inches tall, this bushy perennial flowers from June through August, bringing welcome color to the late summer garden. Its flowers are a rich violet-blue. Hardy to USDA zones 5 - 9, this species is native to Kashmir. It likes well-drained soil in sun. Easy to grow and undemanding.
Parochetus communis
$8.95 Known as both blue oxalis and shamrock pea, this is native to mountains in Africa and Asia. It is low at 1 to 3 inches tall and spreads widely to a couple of feet or more. The green leaves often have a circle pattern of dark red. The cobalt blue flowers are unbelievable at first sight. Flowers are produced for a long season. Plant it outdoors in the spring to give it a good start, and it will survive over winter to USDA zone 8b (15 to 20°F). It is a very vigorous plant that will resprout from its roots if the top of the plant is killed. Potting up a piece of the plant to keep indoors over winter might be a good precaution against the possibility of loosing it. Blue oxalis is content to live planted in a pot year around. In a greenhouse it may well flower all winter. It adds nicely to a hanging basket or deck planter.
Phlox glaberrima 'Triple Play'
$7.95 The leaves are green and cream, tinged in pink during fall and winter. A low and spreading plant, the lavender-pink flowers are taller at 4 to 8 inches and bloom heavily in late spring with a second bloom at the end of summer. And they are favorites of hummingbirds and butteflies. Cold hardy from USDA zone 4 to 8,
Phlox glaberrima
is native from Wisconsin south to Florida. If several are planted as a group, space them about 8 to 10 inches apart. (Plant patent 21,329)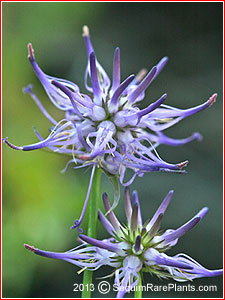 Phyteuma scheuchzeri
$7.95 Not frequently offered at nurseries, the common name of this is horned rampion. It is a close relative of bellflowers,
Campanula
, although the flowers are quite different in appearance from bellflowers. Each flowerstem holds a ball-shaped cluster of violet-blue flowers, and long, spiky bracts, that have a light, dainty character. Horned rampion hails from the mountainous Alps of Europe. Hardy to USDA zones 6 to 9, and to Zone 5 with protection. Its flowering season is early to mid summer, and blooms at a height of eight to ten inches.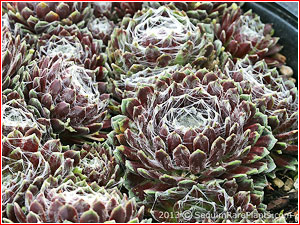 Sempervivum arachnoideum 'Rubrum'
$5.95 A selection of the species,
arachnoideum
, the tightly held leaves form a rounded plant that is overlaid with a fine network of cobwebbing that is typical of this species. The leaves are green that are often, but not always strongly colored in red. Cold hardy to USDA zone 3 (-30° to -40°F). As is true for many frost-hardy succulents, applies equally to this hen-and-chicks, that illustrating it with a single photo is not completely accurate, because the colors change throughout the year. And sometimes the color change is dramatic. Not only do the colors change according to the season, but also according to how much sun or shade it receives.
Many more
Sempervivums
can be found on another
page of our website (click here).
Succisa praetensis (dwarf form)
$7.95 We received this from Mt. Tahoma Nursery, and to quote that nursery's description, this is "a cute little summer blooming rock garden plant from the Caucasus. Mats of dark green, lanceolate leaves with rich violet-purple pincushion flowers held on short stems. Easy to please." Lower leaves with flowers to 5 inches tall. USDA zones 5 - 9.
Veronica allionii
$7.95 The dark green leaves grow into a low mat to twelve inches wide in several years. In July, four-inch to six-inch spikes of purple flowers appear. They last many weeks. Being so low this is useful at the front of a flower bed or in a rock garden. Hardy to USDA zone 3, possibly to zone 2.
Veronica thessalica
$8.95 Tiny, spoon-shaped, evergreen leaves cloth short stems reaching a height of four inches. As the stems grow longer they fall to the soil, to form a low, slowly spreading creeper. In summer, multiple purplish-blue flowers adorn the ends of
Veronica thessalica's
shoots. A native of Albania. USDA zones 4 - 7 in the East, and to zones 4 - 9 in the West.
Veronica whitleyi
$7.95 Popularly known as speedwell, this grows as an evergreen mat of low, finely cut feathery grayish-green leaves. Small blue flowers come in spring, often repeating from late summer into fall. The plant's height is only 2 to 4 inches. Its spread can be to one or two feet. USDA zones 3 - 9.