Martha Washington geraniums
Colorful and long-blooming plants offered from the beginning of the year on through most of spring. We stop offering them in late spring once our weather starts to get hot. Propagated here at Sequim Rare Plants from cuttings, some of them are heirloom varieties that are not easy to find. They have the same basic needs as the more frequently grown zonal geraniums, except liking less heat. Grow them where they receive morning light but are shaded from the hot afternoon sun, such as under the dappled light of a tree, or on the east/northeast side of your house. For watering, we let our plants dry out between deep waterings, and lightly spray the foliage off and on. To set flower buds and to flower well their second year in your garden they need a cooling down period over winter when you have them indoors. The temperature needs to be lower than 55°F at night but above freezing. So store them near the window of an unheated garage, porch or basement.
Click here to go a 4-minute video on our Pelargoniums.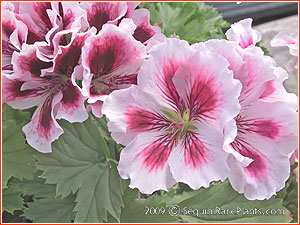 Pelargonium 'Aztec'
$5.95 The colors of 'Aztec' are white and strawberry, with the strawberry being elongated blotches down the center of the petals.
Pelargonium 'Baby Snooks'
$5.95 'Baby Snooks' has smaller flowers on a plant that grows large. Colors of rich plum-red on the upper two petals, the lower petals are white dusted in a lighter plum-red.
Pelargonium 'Brown's Butterfly'
$5.95 Flowers are ruffled in a very dark red, almost black. The size of the flowers are slightly smaller than average.
Pelargonium 'Brushfire
$6.95 Brushfire' has large, firey red flowers with a darker center.
Pelargonium 'Burghi'
$6.95 The flowers are an unusual dark blood-red with even darker veining.
Pelargonium 'Dapper Burgundy'
$5.95 The color is a rich purple with darker blazes at the base of each petal.
Pelargonium 'Dubonnet'
$5.95 The colors are a rich wine-red.
Pelargonium 'El Gato'
$5.95 The flowers are less cup-shaped or trumpet-shaped than normal because the edges of the petals are a bit irregular. However the colors are very rich and vivid -- a striking red with darker centers, and with a creamy edge to the petals. El gato is Spanish for the word, cat.
Pelargonium 'Elsie Hickman'
$5.95 As the stems grow longer on this plant, they cannot hold themselves upright very well, and tend to splay out and cascade. This is not bad trait when several are planted together as a hanging basket, where the prostrate stems will droop over the container's edges. Each flower has a large white throat. The lower petals are a mid pink, and the upper petals are mostly a rich, very dark red. All three colors stand out well. The petals are large and rounded. The overall effect is very pleasing.
Pelargonium 'Exquisite'
$5.95 Rounded petals with ruffly edges are a light pink. Each petal has a darker red blotch in its center.
Pelargonium 'Flower Basket'
$5.95 This Martha has pink flowers, and her stems grow long and lax, filling out sideways as well as growing taller. So this plant makes a very nice hanging basket when two or three are planted together. And being tolerant of drying out between deep waterings, does very well all summer long, as long as she is given a bit of shade during the hottest part of the summer's day.
Pelargonium 'Georgia Peach'
$6.95 A true "self," being a pure, solid light pinky salmon. Each flower is large and ruffled.
Pelargonium 'Josy'
$5.95 Rich pink flowers with darker blazes in the upper petals.
'Little Rascal'
$5.95 'Little Rascal' has smaller flowers on a plant that grows large. More than half of each flower is white. The upper petals are a rich purplish red, rimmed in creamy white. The clusters of small flowers are very showy.
Pelargonium 'Majestic'
$5.95 Reddish salmon with a dark blotch on each of the upper petals. A very lovely flower in shape and color.
Pelargonium 'Mary'
$5.95 Mostly a pure, creamy white. There is just a small, light touch of lavender pink at the very center of the upper two petals.
Pelargonium 'Mini Martha'
$5.95 We do not know the real name of this plant that we inherited. 'Mini Martha' is just our temporary name until someone can tell us what it should be. It has small flowers on a full-sized plant. The colors are white and purplish red. The two upper petals are dark, purplish red with white at the edges. The three lower petals are mostly white with a spot of light purplish red in the center.
Pelargonium 'New Gypsy'
$5.95 Its petals are much thinner, giving it a star-like shape to the flower. Combines a variety of colors in white, pink and dark red, with dark blotches on the upper petals.
Pelargonium 'Orange Parfait'
$6.95 This has a strong, rich reddish salmon, with ruffled edges, a rounded shape and a lighter heart.
Pelargonium 'Pansy Face'
$5.95 The uppper two petals are a rich magenta with dark veins. The lower three petals are a pure white. Each flower is airy and light, and are grouped in clusters of several flowers per stem.
Pelargonium 'Peach Princess'
$7.95 Pastel pink flowers adorn plants with large leaves of green, edged in cream.
Pelargonium 'Picasso Pink'
$6.95 The flowers are multicolored, with creamy throats that blend to light pink and then darker reddish-pink edges, with a tracery of fine darker veins.
Pelargonium 'Pompeii'
$6.95 Dark velvety red with a thin light edge to each petal.
Pelargonium 'Rogers Delight'
$5.95 'Roger's Delight' is a cross between a scented-leaf geranium and a Martha Washington geranium, with wider and more colorful petals than the normal scented-leaf geranium. He has unruffled, pink petals with darker blazes on the upper two petals. His leaves are strongly fragrant of citrus. A glorious sensation for the eye and nose!
Pelargonium 'Rogue'
$5.95 'Rogue' has wide petals of dark red with darker blotches in the center of the petals.
Pelargonium 'Salmon Splendor'
$6.95 Rich orange-salmon with dark blotches to each petal.
Pelargonium 'Vicky'
$5.95 Combines several shades of salmon in a ruffled flower. The upper petals have a darker central blaze that bleeds beautifully into the lighter salmon.
Pelargonium 'White Champion'
$6.95 A large, pure white flower that is ruffled.