Rhodanthemum hosmariensis
$7.95 (roe-'dan-the-mum) Originally from Morocco, this is a superb flower and foliage plant for a sunny site, with pristine white daisies that is seldom without bloom from spring to autumn. In milder parts of California it even flowers through winter. The silvery leaves are evergreen and attractive at all seasons. Reaches a size of 8 to 10 inches high, by 24 inches wide. Give it ground that drains well. Otherwise, very low-maintenance and easy to grow. Especially nice when added to a large container of sun-loving flowers. Also it is attractive drapping over a rock wall or as an edging plant, among other possibilites. Tolerates drought very well. Hardy to +15°F.
Rosa 'Clementina Carbonieri'
$9.95 A tea rose, this lovely, low bush has fragrant ever-blooming flowers of yellow, orange, pink and salmon. Its height is approximately three feet tall, with a two-foot width. With few thorns. And was first registered in 1913. Cold hardy to 0°F.
Rosa glauca (rubrifolia)
$9.95 Also known as
Rosa rubrifolia
, it is notable for its unusual grey-green foliage and purplish-red stems. Flowers are pink and about one inch wide. The clusters of small red fruit are colorful later in the year.
Rosa glauca
is a densely spreading bush, 5 to 6 feet tall. Its thorns are small, more like prickles. Native to mountains of southern Europe, it can take much cold, growing in USDA zones 2 to 9. Good uses would be grown as a free-standing shrub, or tied to a trellis or fence to be trained as a small climber. Doesn't need much sunlight to grow well, growing well in a semi-shady spot in your garden. Disease resistant and undemanding. Its fruit pesists into winter to offer food for birds.
Rosa 'Mutabilis'
$9.95 Flowering all summer long, this semi-evergreen shrub rose grows to four feet tall in northern climates and to six feet tall in southern climates. Young shoots are purplish and the new leaves are coppery. Its flowers change color as they age — the unopened buds are apricot-pink, then open to buff, next becoming a mixture of apricot, rose, and crimson. The flowers are unscented and each is two to three inches across. Sometimes called the butterfly rose, it was brought back from China during the Victorian era. Do not prune it hard, but only enough to keep it within bounds or to remove dead wood. Winter hardy to USDA zone 6.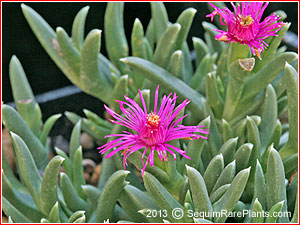 Ruschia pulvinaris
$6.95 Comes from high elevations in South Africa and is said to survive outdoors where winter temperatures drop to -10°F. The foliage is a tight mass of evergreen leaves. The shocking pink flowers bloom for several weeks in late spring. It grows about three inches tall and expands to a foot wide or more. As it loves heat, it is a good choice for especially hot locations.
Salvia africana-lutea
$6.95 The leaves are wavy, aromatic and tinted a grayish-green. The large 1 to 1½-inch flower has a rich and unusual color of warm chocolatey brown. It also has an attractive largish cup-shaped purplish calyx after the petals fall off . The flowerbud starts a lighter color but soon changes to brown. Generally 2 - 3 ft tall, to 6 ft in parts of CA. Native to Africa, where it is known as dune sage. Grows well in USDA zones 9 - 11.
Salvia greggii
'Desert Blaze'
$8.95 Its flowers are a bright red and the small semi-evergreen leaves are white and green. Even when out of flower the woody structure of the plant is decorative. Give it as much sunlight as possible. It can be pruned hard, cutting back by half when it grows too big. Deer do not bother it and hummingbirds love it, the perfect combination for wildlife in your garden. This species is native to Texas, growing into a low shrub two feet tall. USDA zones 8 - 10, and zone 7 with protection.
Saxifraga x urbium
'Aureopunctata'
$8.95 A low, spreading perennial for growing in partial to full shade, the leaves of this are spoon-shaped of dark green with serrated edges, and speckled in golden-yellow. It needs little water to be content, and in time will spread to form a thick groundcover, even on poor soil. In late spring, small whitish-pink flowers show on stems of eight to fifteen inches. Commonly known in Britain as "London Pride" because it is so frequently seen in that city. For USDA zones 6 - 8 this is one of the best all-purpose edging plants for shade. In autumn, be sure to keep fallen leaves from completely covering and potentially smothering the plant.
Saxifraga paniculata ssp. petrophila
$8.95 Tight growth and small evergreen leaves define this creeping perennial. The leathery leaves are toothed with distinctive lime-encrusted pores on each leaf. Its native habitat is arctic and alpine regions, so it survives well to -30°F. In gardens, shading it from the hot afternoon sun is advised, at least where summers are especially warm. The scale of this plant is very small. Dainty, creamy flowers come in May/June on stems of six to eight inches tall.
Saxifraga stolonifera
'Cuscutiformis'
$6.95 'Cuscutiformis' has rounded green leaves that are shallowly lobed, and covered with a netting of creamy veins. In spring several red, thin and thread-like runners spring from a plant that end in smaller baby-plants that will root in and grow on. In this way several plants become a widening colony. A good place to grow this would be under large shrubs, or on the densely shady, mossy side of a building where little else is able grow. Airy clusters of small white flowers appear on thin stems in late spring. USDA zones 5 - 9.
Saxifrages are offered here for both shady and sunny conditions. Forms of
Saxifraga stolonifera
and
urbium
prefer shade. While forms of
Saxifraga paniculata
are happier with more sun.
Saxifraga stolonifera
'Harvest Moon'
$8.95 'Harvest Moon' prefers more shade than sun, however if grown in too much shade the leaves will be more green than golden. So a fair degree of bright sunlight is necessary. You will notice that the higher, more exposed leaves will be more golden, whereas the lower, more shaded leaves will be darker and greener. It has tiny white flowers on stems twelve to fifteen inches tall in late spring to early summer. Despite the fact that it does spread by runners, it is one of the easiest plants to keep under control because the plants are so often delicately rooted into the ground. It tolerates dry gound well, and would be a good choice for a groundcover in dry shade. When grown in a pot let the soil dry out considerably more than you would most potted plants. It can also absorb moisture through its leaves, so misting the leaves between watering the soil is helpful. When grown in a pot, if its soil is kept constantly wet, the roots will rot. USDA zones 5 - 9. This plant thrives on neglect.
Saxifraga stolonifera
'Maroon Beauty'
$6.95 Having rounded leaves of very dark green under ideal conditions, the dark leaves contrast well with their lighter veins, and are lightly covered in hairs that show off to good advantage. The undersides of the leaves are pinkish. Grows best in mostly shady conditions although some light is needed for the richest coloring of reddish-green. Spreads by thin runners. Dainty, light and airy flowers appear in spring on stems of about twelve inches tall. USDA zones 5 - 9.
Scopolia carniolica
$7.95 In spring new flowers appear before the young leaves fully open. The blossoms are golden yellow and dark reddish on the outside, and cup shaped. They last for several weeks. The mature height will be 15 to 24 inches. Its native home is the eastern Alps and Carpathian mountains of Europe. It belongs to the Solanaceae family. Care should be used in handling it -- not to rub your eyes if you get any of the sap on your hands. Cold hardy to USDA zone 5.
Sempervivum
"hens and chicks"
These love sunshine, not needing much water to grow well. Spreading by runners, they are long-lived and can take severe winter cold, surviving to USDA zone 3 (-30° to -40°F). Showing each variety of these with a single photo is not completely accurate, because the colors change throughout the year. Not only do their colors change according to the season, but also according to how wet or dry they are grown, and also by how much sun or shade they are getting.
Sempervivum
'Atroviolaceum'
$5.95 A deep red violet is the color. The plants grow large. All of these
Sempervivums
are cold hardy to USDA zone 3 (-30° to -40°F).
Sempervivum
'Black Mountain'
$5.95 The plant is mostly a dark reddish maroon, with green are the heart of the plant. Cold hardy to USDA zone 3 (-30° to -40°F).
Sempervivum 'Blue Boy'
$5.95 Not truly blue, but the plant can have a grayish-lilac overlay to its rosy-pink coloring.
Sempervivum 'Braunii'
$5.95 A variety of the species,
montanum
, the leaves vary season to season, sometimes a combination of velvety green, having tips of dark red, and at other times (especially after a cold winter) of having leaves that are completely red.
Sempervivum 'Bronco'
$5.95 The foliage is dark green that is edged and tipped a dark rich red. At times the leaves turn much more of a dark purplish-red. The leaves are long, narrow and are sharply pointed.
Sempervivum 'Carnival'
$6.95 Wider leaves of various shades of red.
Sempervivum 'Direktor Jacobs'
$5.95 The rounded ends of the leaves come to fine points. The color is mostly red.
Sempervivum 'Flamingo'
$6.95 There are several colors in the plant, and pink can be prominent among them. It is not the pink of plastic flamingoes, but a much more subtle frosting of it through the plant.There are touches of a darker red to the ends of the leaves.
Sempervivum 'Icicle'
$5.95 A selection of the species,
arachnoideum
, the rounded tightly held leaves form rounded plants that are overlain with a fine network of cobwebbing that is typical of this species. The inner, younger leaves may be green with rosy-red outer leaves. Or at times the entire plant will be mostly red.
Sempervivum 'Jeanne d'Arc'
$5.95 She stands in a fire of leaves in various degrees of red.
Sempervivum 'Kelly Jo'
$5.95 A very good mixture of green and red are the leaves.
Sempervivum 'Kosanii'
$5.95 The velvety, lightly furry leaves are a medium green with the tips touched with a purplish-red.
Sempervivum 'More Honey'
$5.95 Green at the base well flushed with orange-red shading, this plant grows large. Its orange-red color, that is reminiscent of honey, comes and goes depending on the season.
Sempervivum 'Oddity'
$5.95 The leaves are long and rolled into the shape of quills that are green with purple tips. The tips are cupped or slightly indented.
Sempervivum 'Rojin'
$5.95 Bright red are these smooth leaves, shading to a darker red at the tips and green at the center of the plant. In the Japanese language, rojin, is the word for an aged man. Jurōjin (寿老人), is the Taoist god of longevity. He is depicted with a scroll on which is written the lifespan of all living things.
Sempervivum 'Rouge'
$6.95 This grows to be the largest of plants among our sempervivums. 'Rouge's colors are the reverse of what we usually see, with 'Rouge' there is deep red at the center of a plant and green towards the tips of the leaves. Its leaves are thick and wide.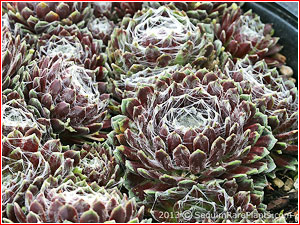 Sempervivum 'Rubrum'
$5.95 This is a form of the species,
arachnoideum
. A rounded plant that is overlaid with a fine network of cobwebbing that is typical of this species. The leaves are green that are often, but not always strongly colored in red.
Sempervivum 'Silver Olympic'
$5.95 Not growing large, the rounded rosettes of leaves are a green color and have a large amount of cob-webbing giving them a delicate appearance.
Sempervivum 'Silver Spring'
$5.95 At times mostly red, or at other times red on the outer half of the leaves and green towards the center of the leaves. Nicely tapering leaf blades.
Sempervivum 'Sir William Lawrence'
$5.95 This is a form of the species,
calcareum
. The leaves are green except for the tips that are a dark blood-red. And the contrast between the two colors is so dramatic that this can hardly be confused with any other.
Sempervivum 'Stanfeldsii'
$5.95 The coloring is a solid, pure light green, and a welcome change from all of the muti-colored sempervivums.
Sempervivum 'Starshine'
$5.95 This selection produces medium sized rosettes of smooth pinkish-red to near orange leaves. Short spikes of pastel-pink flowers in summer.
Sempervivum 'Teck'
$5.95 This has a subtle blending of colors, pastel green and violet, with a light touch of a dark red at the very tips.
Sempervivum 'Thunder Cloud'
$5.95 The leaves shade from green to a violet-red with dark tips.
Sempervivum 'Topaz'
$5.95 The gray-green leaves are shaded in a rosy purple. The coloring can be much darker and much more reddish sometimes.
Sempervivum 'Tracy Sue'
$5.95 The color is a velvety green that has a grayish, furry texture to it.
Sempervivum 'Unicorn'
$5.95 A rosy-pink flush blends into green leaves that have a golden, downy appearance.
Silene alpestris 'Flore Pleno'
$7.95 With flower stems to a height of twelve to fifteen inches, open clusters of fringed, semi-double, pure white flowers that are ¾-inch wide, continue non-stop all summer long, even into cold fall weather. Its leaves are evergreen, and grow as a low, ground-hugging clump. Hardy to USDA Zones 4 - 8. Its soil needs to be well drained. One of the longest blooming perennials.
Solidago virgaurea subsp. alpestris
$7.95 This miniature goldenrod has low growing, ground-hugging foliage of dark green leaves. In late summer and early fall, tiny golden daisy-like blossoms appear on short, 2 to 4-inch stems. Give it full sun and a well drained soil. As it blooms in late summer, watering it then may be necessary in a dry year, to get the best show of flowers. A native to the high mountains of Japan's southernmost island, Kyushu. Attracts bees and butterflies. Hardy to USDA zone 4 (-20°F to -30°F).
Tanacetum haradjanii
$7.95 Deeply cut, feathery leaves of silvery white are stunning on this perennial. We rarely if ever see flowers on it. This likes well drained soil and more sun than shade. Winter hardy to USDA zone 6. Mature height will be six inches with a width of twelve inches in a couple of years.
Telekia speciosa
$10.95 The scale of this easy-care perennial is large. The leaves are light green and grow large, to about a foot long. The height of the leaves will be two to three feet. Taller stems to five feet carry golden petalled flowers in summer that have particularly thin petals. For full sun or partial shade. Once established it does not require a lot of water. Also known as
Buphthalmum speciosum
. USDA zones 3 - 7 in the East, zones 3 - 9 in the West.
Tellima 'Forest Frost'
$8.95 Known as fringe cups, this plant is semi-evergreen and cold hardy to USDA zone 5 (-20°F). The color of the leaves is green in summer and an amazingly bright red in winter. The height of the foliage will be a foot to a foot and a half, with taller green flowers that turn to red on stems to 30 inches. Does well in dry shade, also growing with more light.
Tricyrtis 'Imperial Banner'
$9.95 The flowers are 1½ inches across, colored in creamy white with dark purplish red speckles. The leaves have creamy centers surrounded in green, about two inches long. A plant will bloom for many weeks during the later part of summer into autumn. To grow well it needs a humus-rich, moisture retentive soil and filtered light during the hottest part of the afternoon. Height is 18 to 24 inches. USDA zones 5 - 9.
Veronica 'Miffy Brute'
$6.95 This is a variegated sport of a plant that is native to Northern Europe. The leaves are green and cream. Light blue flowers open in early summer. It grows four to six inches tall with a greater width. Occasionally stems will have leaves that are not variegated which should be pinched off. Grows well in full sun or partial shade. Give it more shade where summers are hot. USDA zones 6 - 8.
Veronica gentianoides 'Variegata'
$8.95 Its lustrous, green leaves have creamy marbling. It is semi-evergreen and low to the ground, growing into a slowly widening clump that carries short spires of beautifully blue flowers in early summer. To grow well it needs soil that will not dry out during the heat of summer. And filtered light, or placed where it receives morning sun only. USDA zones 4 - 9 in the West, zones 4 - 7 in the East.
Viola odorata 'Clive Groves'
$8.95 Its small, sweetly fragrant flowers bloom very early in the year. The scent is strong and you do not have to wonder if your sniffer is working with this flower. The color is a deep, rich purple. A plant of this will send out short runners that become new plants. And within a season or two, one plant becomes a small colony.
Viola odorata 'Fair Oaks'
$8.95 Introduced by Canyon Creek Nursery in 1986, to quote their catalog, originating in the garden of my family home, the color of this violet, unlike any other, is a delicate shade of lilac-pink. The medium sized flowers on long stems are extremely fragrant. The seeds come true and spread very rapidly making a nice woodland ground cover. USDA zones 3 - 9.
Viola odorata 'Lianne'
$8.95 The small flowers are a rich blue. This viola will spread wider in two ways, both by seeding itself about and also from runners that it sends out four to eight inches. It does not grow tall, reaching a short height of 2 - 4 inches.
Viola odorata 'Lydia Groves'
$8.95 The flowers of this are a light, candy pink that are sweetly scented. In 1989 it was selected in England by Clive Groves and named for his mother. The flowers have a single row of petals. The heart of the flower is a creamy white. It blooms very early in spring and again in fall. Its height is three to six inches.
Viola odorata (mauve)
$8.95 This flower is a grayish violet, very fragrant and low growing. It blooms early in the year, and often will rebloom as the days become cooler at the end of summer. Light shade is recommended. Adding some well rotted compost when planting is helpful. Young plants should be watered regularly to get them off to a good start. Once established, plants do not need more than average moisture. USDA zones 3 - 9. Sweet violets have been cultivated in gardens for a long time, not only for their beauty and fragrance, but also for their medicinal properties. They contain the glycoside of salicylic acid, which has been used for the synthesis of aspirin. It is no wonder herbalists have prescribed an infusion of this plant for treating headaches, migraines and insomnia.
Viola odorata 'Reid's Crimson Carpet'
$8.95 Introduced by Canyon Creek Nursery in 1998, to quote their catalog's description of 'Reid's Crimson Carpet,' "this makes a compact carpet of tidy, deep green foliage. In spring this mat is covered with brilliant crimson flowers which are nicely scented. Named for our son, Reid, who thinks we should have patented this violet to help towards his college fund. He might be right."
Viola odorata var. rosea
$8.95 Fragrant, mid-pink blossoms show in early spring and again as the temperatures cool in autumn. Spreads by seeds and by runners.
Viola odorata ssp. sulfurea
$8.95 Our original plant of this came from Lamb Nurseries in Spokane, Washington. It has flowers of apricot with a single row of petals. For many years we thought this had no scent, although more recently we noticed a very light fragrance to a plant in flower in one of our greenhouses. According to Roy Coombs in his book,
Violets, the History & Cultivation of Scented Violets
, this is probably a distinct species rather than a subspecies of
V. odorata
. Dating from 1896 in France. USDA zones 3 - 9.
Viola odorata 'Duchesse de Parme'
$11.95 'Duchesse de Parme' originated in 1870 and is said to be the easiest Parma violet to grow. In America it has been one of the easier Parmas to find in recent years. Its fully double flowers are a violet blue, with creamy white closer to the center. It makes a charming tussie mussie or petite bouquet, with its six-inch stems. Its season is late winter into early spring, and again in early fall. Survives cold down to about +20°F.