Jovibarba heuffelii
Colors vary from yellow, to crimson, to plum, to green. This drought-tolerant succulent requires soil that drains well and a location with a fair amount of light. Long lived, surviving both summer's heat and winter's cold. Popularly known as hens-and-chicks, which is also the popular name for
Sempervivums
, this grows as a tightly clustered group, connected at the roots, and doesn't spread by runners. Cold hardy, -20° to -30°F (USDA zone 4).
Jovibarba heuffelii 'Blaze'
$6.95 The colors of 'Blaze' change during the seasons, sometimes being a bright red and at other times being a dark maroon/brown.
Jovibarba 'Chocoletto'
$8.95 The rich brownish coloring of the leaves is accented by a light rim of creamy hairs that catch the light. The leaves are often but not always this darkly colored. The subtle color changes are something to look forward to throughout the year!
Jovibarba 'Gold Bug'
$9.95 The photo was taken on March 1st, and is golden. At other times 'Gold Bug' will be green with reddish tips.
Jovibarba 'Irene'
$6.95 The leaves are mostly a rich, medium red, being a lighter red closer to the center of the plant and a darker red towards the leaf tips. The leaf edges standout with a lighter coloring, due to the small hairs lining the edges.
Jovibarba 'Minutum'
$6.95 The mid-green leaves are tinged reddish at their tips. This plant isn't usually smaller than other
Jovibarba heuffelii
, although it may have a more congested cluster of leaves.
Jovibarba 'Orion'
$6.95 At times the leaf colors are darker violet-red and green, and at other times become a glowing bright red. A combination of influences cause these color changes, such as the season of the year and how much light they receive.
Jovibarba 'Passat'
$6.95 For part of the year the leaves are green with darker leaf tips, and at other times their coloring is a vivid red.
Jovibarba 'Sundancer'
$6.95 The green leaves are tipped in a blood red. At other times of the year the leaves are more golden or yellowish.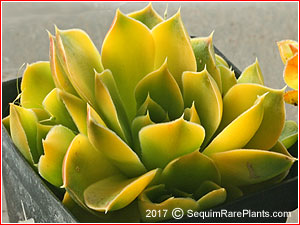 Jovibarba 'Xanthoheuff'
$9.95 This succulent is a bright yellow, especially when grown in bright light and during springtime -- at times it is more of a chartreuse green, still a lovely color to contrast with the other succulents.
Propagating Jovibarba
A group of the round, leafy rosettes are usually tightly clustered together, more tightly than you might expect -- and they generally do not produce long runners as
Sempervivums
do. So instead of simply pulling them apart as with other succulents you must cut them with a knife, as has been done with the plant in the picture. And it is important to let the freshly cut tissue air-dry for several days before replanting.
Kniphofia albescens
$14.95 The flowers are a pastel light green at the top and creamy white below. With age all of the florets become a delicate, creamy yellow. Produced from divisions, not from seeds, so they will all match. Blooming during the later half of summer with flower stems of 3 to 3½ feet high. Cold hardy to USDA zone 7, and zone 6 with winter protection.
Kniphofia 'Apricot Soufflé'
$11.95 Flowering in July, this softly colored orange/apricot and creamy yellow flower reaches a height of two and a half feet. The soft and rich colors of 'Apricot Soufflé' mix beautifully with lavender, blue and white flowers.
Kniphofia 'Bee's Sunset'
$10.95 It flowers in midsummer. The flowerheads are shaded a yellow to subtle orange. Reaches a height of three feet. USDA zones 6 (with winter protection) to 10.
Kniphofia 'Candlelight'
$12.95 Lemon yellow flowers on three to four-foot stems in June with more flowers appearing towards fall. USDA zones 6 - 10.
Kniphofia 'Christmas Cheer'
13.95 'Christmas Cheer' has been growing here outdoors without any protection for twenty years, surviving winter temperatures down to +6°F. And to repeat, 'Christmas Cheer' received no covering or other protection during these twenty years. So it survives temperatures below freezing quite well. However, the flowers cannot take a frost, and because they bloom during December, January and February there is no practical reason to grow this red-hot poker unless you live where winters are mild. Of course winter weather varies from year to year, and some winters we get a warm spell when the flowers bloom well outdoors. It is a hot orange-red, with older, lower flowers turning to light yellow as they age. Height will be 2 to 3 feet.
Kniphofia 'Coral'
$10.95 Blooming in early summer, the coral colored flowerheads reach a height of three to four feet. Very robust and surviving a greater degree of cold, to USDA zone 5.
Kniphofia 'Gladness'
$10.95 Orange-golden flowers that are darker at the top of the flowerhead and lighter on older, lower flowers. The flowers are on 3-foot stems from the middle of summer through August. Our local birdlife loves to visit these flowers and drink nectar from them. USDA zones 6 - 9, and to zone 10 in the West.
Kniphofia 'Ice Queen'
$14.95 Large white torches are lime green when first opening, on stems of three feet, showing for us in late summer into fall. It may flower earlier in the summer for you because many of the late-summer torchlilies will often flower earlier where summers are warm. Although large sized, it grows more slowly than others. In late summer and fall when there are so many warm colors, this cool white and lime is arresting. With this torchlily, its flower stems may grow taller than three feet the first year or two after planting, especially if you plant it in rich soil. After a plant becomes well established in a year or two its flower stems will settle into a height of three feet. USDA zones 6 - 10.
Kniphofia 'Lemon Queen'
$10.95 Flowering in July and August, its colors are a pure lemon yellow. It is extraordinarily strong growing. USDA zones 6 - 10, and zone 5 with protection over winter.
Kniphofia linearifolia
$14.95 The height of this flower spike is in a range of three to four feet. At first the flowers are an orange-tangerine that open to yellow, with a medium size to the head of flowers. The season of bloom is late in summer, to early fall. The leaves are wider than most with a long length, and will take up quite a bit of ground space. USDA zones 7 - 10.
Kniphofia 'Nancy's Red'
$13.95 Only two feet tall is this torch lily. Her flowers are a coral red, showing at the end of summer and on into fall. USDA zones 6 - 9, and to zone 10 in the West.
Kniphofia 'Percy's Pride'
$10.95 This is not the tallest torch lily, although the size of its flowerheads are likely the largest I have seen. The huge long heads of flowers are in lime green and the palest of yellows, and are much anticipated here in late summer. This is very vigorous. The height of the flower stems is three to four feet. USDA zones 6 - 9, and to zone 10 in the West.
Kniphofia x pfitzeri
$8.95 Growing to 2½ - 3 feet tall, these flowers are orange-red with a slightly darker, dusky shading to the flowers at the upper portion of the flowerhead.
K. x pfitzeri
is named for the Pfitzer Nursery of Stuttgart, Germany where it originated. It can survive to USDA zone 5 (-15°F to -20°F). Be sure to plant it before summer is too far along so it has time to settle in before the seasons change, and cooler weather arrives.
Kniphofia 'Robin Hood'
$12.95 Coral red flowers on stems of 2½ feet bloom in early summer. This is one of the hardier torch lilies. Although this variety has been around for several decades in America, it isn't frequently available.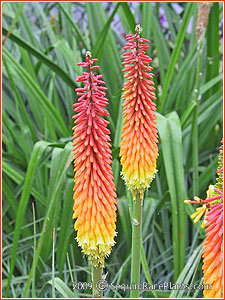 Kniphofia 'Roman Candle'
$10.95 In case you are wondering what a Roman candle is, it is an elongated cylinder that shoots out jets of sparks and fireballs. The shape of this plant's flower spike is especially long and tapering when well grown. Flowering in July with stems to three feet. The top is scarlet with older, lower flowers turning to orange and then to a light yellow. USDA zones 6 - 10.
Kniphofia rooperi
$9.95 With flowers showing in late summer to fall, this species,
rooperi
is tall at four feet with large flowerheads that are globe shaped. USDA zones 7 - 9, and to zone 10 in the West.
Kniphofia sarmentosa
$12.95 Truly winter flowering, plants in the ground have survived well with temperatures down to +6°F. It is best grown where winters are mild, such as the Deep South or California. Plants spread by runners, which is characteristic of only a few torch lilies. Its colors are coral-red turning to creamy yellow as they age, the overall shape of the flower spike tapering sharply at the top end. Height of the flowers is 18 to 24 inches.
Kniphofia 'Shenandoah'
$14.95 This was offered by a nursery located in the Appalachian foothills of Virginia that we picked up about twenty years ago. It is a plant that can take a greater degree of winter cold. It blooms in late spring to early summer. The flowers are orange-red and yellow, with a height of three to four feet. It grows robustly. USDA zones 6 to 10, and to zone 5 with a covering over winter.
Kniphofia 'Shining Sceptre'
$10.95 A vigorous plants that has orange-gold flowers and blooms July - August. Grows to three feet in height, or slightly more. Its colors are similar to a couple of other varieties we sometimes offer, 'Bee's Sunset' and 'Gladness.'
Kniphofia 'Sunningdale Yellow'
$10.95 This flowers in early summer and reaches a height of three feet or slightly more. It flowers for about six weeks with some additional light flowering towards autumn. USDA zones 6 - 10.
Kniphofia thomsonii subsp. thomsonii
$9.95 The flower stems grow to five feet tall, with a slightly leaning curve that is characteristic of the plant. Plants will send up many flower stems, one after another for most of the summer. The individual flowers are widely spaced on the stems, of a soft but striking orange. USDA zones 7 - 10, and possibly zone 6.
Kniphofia 'Toffee Nosed'
$12.95 The flowers of this are cream, darkening at the top a light toffe color. The flower spikes are lower than most red-hot pokers, reaching a height of two feet. Grows as a slowly widening clump, that in several years will become long-blooming, beginning in June or early July and continuing for most of the summer. USDA zones 7 - 10. It will survive in colder climates if you give it winter protection such as covering with a mulch or a large basket turned upside down and kept from blowing away, with a large rock on top during winter's cold.
Kniphofia 'Torchlight'
$12.95 The unusual characteristic of this light yellow flower is the way each single floret is held out horizontally from the flowerstalk. And as they age, the older florets continue to be held out horizontally, not lowering themselves as happens with the majority of other torch lilies. The plant's height is in the range of three feet. And its season of bloom is the later part of summer. USDA 7ones 7 - 10.
Kniphofia 'Towers of Gold'
$12.95 Grown and named by Luther Burbank, this is a large flowered plant appearing near summer's end. Colors are a golden yellow with a light touch of range/red at the top. Its height is two and a half to three feet. USDA zones 7 - 9, and to zone 10 in the West.
Kniphofia 'Yellow Cheer'
$14.95 Flowering late in the summer and well into autumn, 'Yellow Cheer' has large, rounded flowers of an unusual color of yellow leaning towards the color of pumpkins. It is between three and four feet tall. USDA zones 6 - 9, and to zone 10 in the West.
Kniphofia 'Yellow Fire'
$9.95 Long blooming and colorful with clear yellow flowers for most of summer, beginning in June or early July. Height of 2½ - 3 feet. Will survive in a dry landscape although it will grow better and flower more profusely with occasional watering during summer. USDA zones 6 to 9, and to zone 10 in the West.
Lewisia columbiana var. rupicola
$8.95 This lewisia is smaller in scale than other lewisias, with tight clusters of evergreen leaves, 1 - 3 inches long and ¼-inch wide. Twelve-inch tall sprays of small, open-faced flowers show for weeks in spring and early summer, colored in white with magenta/purple edging and striping. This is a drought-tolerant succulent. Be sure to plant in well drained earth. USDA zones 4 - 8.
Lewisia columbiana var. wallowensis (white form)
$7.95 A small scale lewisia, with short leaves and 6 to 8-inch high sprays of pure white flowers from spring to early summer. A choice rock garden plant. For USDA zones 4 - 8. Native to Oregon.
Linaria 'Natalie'
$6.95 'Natalie' has masses of tiny lavender flowers for much of summer and is long lived. She is easily grown in average soil that is well drained, being drought tolerant once established and requiring no special attention. Her height is eighteen to thirty inches. The stems are very thin and her leaves are small. The overall appearance is lacey and delicate. Hardy to USDA zones 5 - 8. This plant is non-seeding, an advantage over other
Linarias
.
Lobelia laxiflora var. angustifolia
$6.95 A plant that is native to Mexico and southernmost Arizona, this can survive in USDA zones 8 - 11. A few sources report it to be hardy to to -5°F when planted where it has good drainage. It grows to about two feet in height with narrow, shiny leaves, and forms a spreading clump. Flowers appear from summer into autumn. Blossoms come in loose clusters of bright scarlet and yellow that attract hummingbirds. Common names for it are Sierra Madre lobelia and Mexican cardinalflower.
Manfreda (Agave) 'Spot'
$9.95 "deciduous agave" -- A hybrid between Manfreda virginica and Manfreda maculosa ("Texas tuberose"), this plant has gray-green leaves speckled with sizable spots of reddish brown. It is cold hardy USDA zone 5 (-20°F) when situated where the soil drains freely. Older plants, in time, will grow into a thick clump of shoots connected at their roots. The leaves grow to a height of 12 to 15 inches, with taller flower stems to 4 feet.
Melianthus major
$10.95 This plant grows into a woody shrub about five feet in height, having large fingered, grayish or silvery leaves with a zig-zag pattern to the leaf margins as though they were cut with large pinking shears. Survives our winters although sometimes the stems are killed back in winter and must resprout from the roots. On warm summer days the rubbed leaves have a peanut butter-like scent. Flowers here in early summer with clusters of reddish stems and green blooms above the leaves. Cold hardy to USDA zones 7 - 11. Plants that survive in zones 7 and 8 may freeze to the ground, however will resprout from the roots in spring. If a young plant looks like it has frozen, do not be too quick to dig it out. You might discover signs of life and wish you hadn't disturbed it.
Mukdenia 'Crimson Fans'
$10.95 Clusters of small, white flowers appear on this groundcover in early spring before the new leaves appear. The leaves are more the show than the flowers. The shiny, fingered leaves are fan-shaped emerging a bronze-green, that in strong light turn to crimson at the edges. In fall, the green centers turn to gold. Height will be twelve inches on an established plant. This likes partial shade and evenly moist ground throughout summer, and grows better across the cooler, more northerly part of North America. It is a Japanese hybrid of a species that is native to China and Korea. With age the plant will spread out from thick rhizomes. Cold hardy to USDA zone 4. Also known as
Aceriphyllum
.
Nepeta nervosa 'Forncett Select'
$7.95 Growing to a size of ten inches tall, this bushy perennial flowers from June through August, bringing welcome color to the late summer garden. Its flowers are a rich violet-blue. Hardy to USDA zones 5 - 9, this species is native to Kashmir. It likes well-drained soil in sun.
Parochetus communis
$8.95 Known as both blue oxalis and shamrock pea, this is native to the mountains of Africa and Asia. It is low at 1 to 3 inches tall and spreads widely to a couple of feet or more. The green leaves often have a circle pattern of dark red. The cobalt blue flowers are unbelievable at first sight. Flowers are produced for a long season. Plant it outdoors in the spring to give it a good start, and it will survive over winter to USDA zone 8b.
Pelargoniums -- to go to a separate page offering them, click here.
Phlox glaberrima 'Triple Play'
$7.95 The leaves are green and cream, tinged in pink during fall and winter. A low and spreading plant, the lavender-pink flowers are taller at 4 to 8 inches and bloom heavily in late spring with a second bloom at the end of summer. And they are favorites of hummingbirds and butteflies. Cold hardy from USDA zone 4 to 8,
Phlox glaberrima
is native from Wisconsin south to Florida. If several are planted as a group, space them about 8 to 10 inches apart. (Plant patent 21,329)
Phlox subulata 'Candy Stripe'
$7.95 Low and spreading, this is a form of a native phlox with leaves that are thin and evergreen. Masses of bicolored flowers of cream and pink come in mid spring. Older plants will bloom so heavily that the flowers can completely hide the foliage. A beautiful addition to a rock garden, or planted to drape down a slope or over a rock wall. Combines well with spring blulbs such as tulips and daffodils because of its low height. USDA zones 3 - 9.
Phormium 'Candy Stripe'
$9.95 This is native to New Zealand, with leaves of green edged in pink that are evergreen. 'Candy Stripe' reaches a height of three feet, making a good focal point in a garden. USDA zones 7 - 10.
Phormium 'Lancer's Terracotta'
$9.95 Although this colorful form of New Zealand flax has been offered in America for about ten years, it isn't easy to find. The leaves are striped in light cream and various shades of tawny salmon. A mature plant will reach a height of three to four feet, with leaves two inches wide. Plant it in full sun to light shade. It can tolerate fairly dry conditions although it looks best with regular irrigation. Hardy to 15 - 20°F.
Phormium 'Platt's Black'
$8.95 This has arching, upright leaves of maroon-brown. In full sun the color will be darker than when planted in a shadier spot. Its mature height is three to four feet. Grows quickly and looks better with regular, deep watering. Older plants can take more drought. Cold hardy to 15 to 20°F.
Phormium 'Tom Thumb'
$6.95 A dwarf plant, growing to a height of eighteen to twenty-four inches, 'Tom Thumb' has thinner, narrow leaves of green. The smaller scale of this dwarf makes it a nice addition near the front of a group of plants. USDA zones 8 - 10.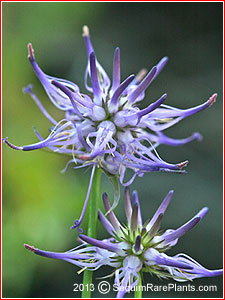 Phyteuma scheuchzeri
$7.95 Not frequently offered at nurseries, the common name of this is horned rampion. It is a close relative of bellflowers,
Campanula
, although the flowers are quite different in appearance from bellflowers. Each flowerstem holds a ball-shaped cluster of violet-blue flowers, and long, spiky bracts, that have a light, dainty character. Its foliage is thin and grass-like. Horned rampion hails from the mountainous Alps of Europe. Hardy to USDA zones 6 to 9, and to zone 5 with protection. Its flowering season is early to mid summer, and blooms at a height of eight to ten inches.
Pleione formosana
$9.95 (Hardy Orchid) This orchid isn't a tree dweller, but grows in the ground outdoors, and survives a light frost to USDA zones 8 - 10. Where winters are colder, it is easily kept in a clay pot and brought indoors to a cool garage or porch over winter -- while dormant keep it only slightly moist. The large, spring flowers are lavender-pink and cream, with touches of gold in its throat, on short stems to five inches tall. Add humus/well rotted compost to the soil where it's to be planted. The leaves are 3 - 8 inches long, pleated lengthwise. It isn't evergreen, and will drop its leaves in fall with only the round, marble-sized pseudobulbs to remind you where it's planted. A native of Taiwan.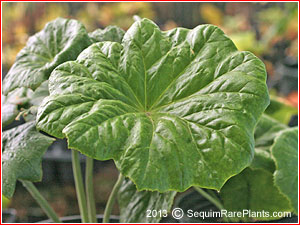 Podophyllum pleianthum
$18.95 The common name for this is Chinese mayapple. It has large, shiny rounded leaves that will grow to the size of a large dinner plate and are very decorative. Richly dark red flowers bloom on the leaf-stems underneath the leaves, and the flower buds do not open all at once but one after another. An older plant will have many buds so that the flower season lasts for quite some time. This plant is a close relative of the mayapple that is native to the eastern states of the USA,
Podophyllum peltatum
, but whereas the American mayapple goes dormant well before summer's end, this Chinese mayapple continues in good condition until autumn frosts. It needs shade all day long to be happy, because direct sunlight will burn any part of the leaf that it touches. Hardy in USDA zones 6 - 8, and to Zone 9 along the Pacific Coast.
More info, click here.
Polemonium 'Stairway to Heaven'
$8.95 (PP# 15,187) A variegated form of jacob's ladder that is native to North America, this has leaves of cream and green, sometimes with pink highlights. New fresh leaves continue to appear all season, keeping it attractive from spring to late fall. Afternoon shade is best where summers are hot. Height is 10 to 15 inches. Pastel baby-blue flowers open in mid to late spring. Hardy in USDA zones 4 - 8.
Primula auricula -- to go to a separate page offering them, click here.
Primula frondosa
$7.95 Clusters of lilac-pink flowers with yellow eyes bloom in April at a low height of two to four inches. The leaves are green above and white on their undersides. A native of Bulgaria,
Primula frondosa
prefers an acidic soil in partial shade. Divide it every few years. USDA zones 4 to 8.
Primula sieboldii 'Snowflake'
$8.95 Blooming from early April to late May, the pure white flowers of 'Snowflake' have lacey margins. The flowers come in clusters on stems up to about nine inches high.
Primula sieboldii
is native to north-east Asia. It doesn't like too much direct sunlight, but thrives in filtered shade. A humusy soil that is rich in leaf mold is much to its liking. Don't be surprised to see it going dormant early, before the end of summer. This is normal for it and doesn't mean that it won't return to be bigger and better the following year. We advise you to make a note of where it's planted so that you won't lose track. Slowly growing into a clump, it also will spread wider into a colony. It may even migrate short distances because new plants can form on its spreading roots. Hardy in USDA zones 5 - 8 (and to Zone 9 along the coastal regions of the West).